Impact on the Older Age Population

(Defined as over the age of 65)
---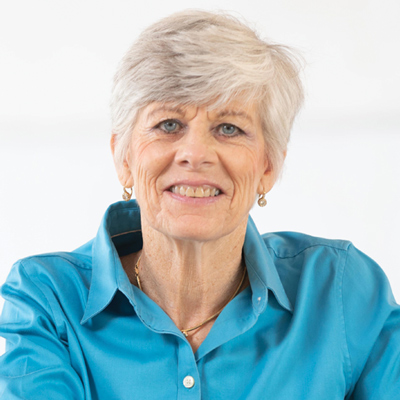 Lisa Duckett
, MD, DBIM
Vice President and Medical Director

RGA U.S. Mortality Markets
Individuals of any age can contract COVID-19 with variability in symptoms and, more importantly, severity of disease. However, older individuals infected with COVID-19 experience more severe symptoms, higher mortality, and prolonged recovery when compared to younger age cohorts. Studies of hospitalized patients from both China and the US identified factors that correlate with increased risk for death: age has been a consistent factor.1
Why has this disease hit the elderly so hard? One of the reasons was shared earlier by my colleague and is intuitive: mortality related to COVID-19 is clearly impacted by comorbidities, which are more common in the elderly. From a statistical standpoint, it can be challenging then to disentangle the relative contribution of age and comorbidity in this cohort.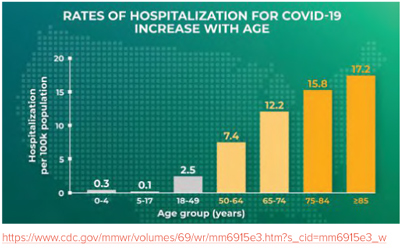 There are, however, several other factors which predispose the elderly to worse outcomes from COVID-19. First, the presence of atypical symptoms has been reported in geriatric populations infected with the coronavirus from Europe and the US. Observed signs and symptoms include delirium, falls, low blood pressure, painful swallowing, abdominal pain, and loss of smell and taste. Any unusual signs or symptoms in a geriatric population may signal COVID-19 infection.2 Delayed recognition further compounds the local spread of disease as virus is shed in the days prior to diagnosis.
Second, the general decline in immune function with aging (immunosenescence) is well established. This is due to reduction of both B and T cells in the bone marrow and thymus, neither of which function as well in the older adult.3 A particular challenge in older adults is the loss of naïve-T cells, which are normally activate upon presentation of unfamiliar pathogens and develop into effector T cells responsible for clearing the virus. This leads not only to a diminished ability to fight novel infections like COVID-19 but also raises concerns regarding the efficacy of potential vaccines in older adults. For example, a recent analysis estimated influenza vaccine effectiveness at 30-50% in adults older than 65 as compared to 70-90% for children and younger adults.4 While several techniques are being studied in COVID-19 vaccine research5, such as the use of adjuvants, the effectiveness of any potential vaccines in this vulnerable group will need to be closely followed.
Finally, there are large subsets of older individuals for whom physical and social distancing is not feasible. This is nowhere more evident than in the nursing home and long-term care facility setting. As of May 1, there have been 97,000 positive tests and 16,000 deaths among residents and staff of these facilities, which represents over a quarter of the overall deaths in the US.6 While the precise risk is unclear due to inconsistent reporting, there are clear and increasing cases of "wildfire" transmission and very high rates of mortality. Another study found that the 101 residents of facilities associated with the Washington state outbreak, who had an average age of 83 and the majority had at least one comorbid condition, the case fatality rate was 34%.7 It should be noted that the inability to adequately socially and physically distance is not limited to nursing home patients and likely extends to those at-home residents with more moderate degrees of dementia and chronic medical illness.
Underwriting Takeaways
Atypical symptoms may be present in the older-age cohort (over 65 years of age) in relation to COVID-19 infection. These may include unexplained falls, confusion, trauma, and abdominal pain.
Elderly individuals who have already developed diseases related to immune compromise or are on immunosuppressant medications represent further elevated risk given the baseline contribution of diminished immune function to COVID-19-related older-age mortality.
---
References
McIntosh K, Corona disease 2019 (COVID-19) : Epidemiology, virology, clinical features, diagnosis and prevention. Accessed April 30.2020. UpToDate.
Graham J, Seniors With COVID-19 Show Unusual Symptoms, Doctors Say. Medscape- April 27, 2020.
Montecino-Rodriguez, Encarnacion, Beata Berent-Maoz, and Kenneth Dorshkind. "Causes, Consequences, and Reversal of Immune System Aging." The Journal of Clinical Investigation 123, no. 3 (March 1, 2013): 958–65.
Ciabattini, Annalisa, Christine Nardini, Francesco Santoro, Paolo Garagnani, Claudio Franceschi, and Donata Medaglini. "Vaccination in the Elderly: The Challenge of Immune Changes with Aging." Seminars in Immunology, Inflammaging, 40 (December 1, 2018): 83–94. https://doi.org/10.1016/j.smim.2018.10.010.
Weintraub, Karen. "Coronavirus Vaccines May Not Work for the Elderly and This Lab Aims to Change That." Scientific American. Accessed May 4, 2020. https://www.scientificamerican.com/article/coronavirus-vaccines-may-not-work-for-the-elderly-and-this-lab-aims-to-change-that/.
Kwiatkowski, Tricia L. Nadolny and Marisa. "'Our Patients Are Dropping like Flies': 16,000 Dead from COVID-19 in U.S. Nursing Homes." USA TODAY. Accessed May 4, 2020. https://www.usatoday.com/story/news/investigations/2020/05/01/coronavirus-nursing-homes-more-states-pressured-name-facilities/3062537001/.
McMichael TM, Currie DW, Clark S, et al. Epidemiology of Covid-19 in a Long-Term Care Facility in King County, Washington. N Engl J Med; 2020 Mar 27. doi: 10.1056/NEJMoa2005412.