Neurologic Complications of COVID-19
---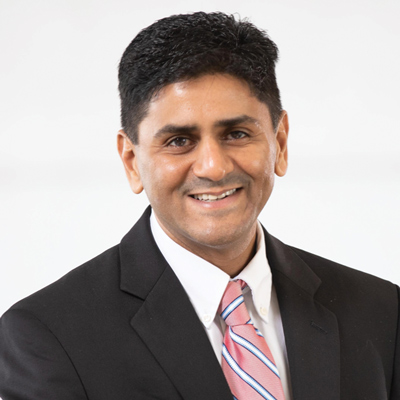 Dave Rengachary
MD, DBIM, FALU, FLMI
Senior Vice President and
Chief Medical Director

RGA U.S. Mortality Markets
There are no neurologic conditions specifically included on the CDC list of those at higher risk for severe illness1, though it is certainly reasonable to raise concerns about those individuals whose neurologic disease places them at higher risk due to immune, respiratory, swallowing compromise, or those at greater risk of care in a hospital or long-term-care facility.
Not surprisingly, the first reports of neurologic complications arose from a case series of patients from the Wuhan, China outbreak.2 In a series of 214 individuals, 78 patients (36.4%) had some sort of neurologic manifestation of disease. The most common symptoms affected the central nervous system (24.8%), were nonspecific, and included dizziness and headache. However, six patients (2.8%) presented with acute cerebrovascular disease. Interestingly, two of the six stroke patients presented to the hospital with typical stroke symptoms and were only later found to have lung lesions characteristic of COVID-19. The other strokes occurred later in the disease cycle and in more severely affected individuals, which is a finding that is difficult to interpret given the known, higher level of cardiovascular comorbidities. Impaired taste and smell emerged as the most common symptoms attributed to the peripheral nervous system. This finding has since been replicated in several other publications3,4, and the symptoms are now recognized by the CDC as indicative of the disease. Though certain olfactory cells have been identified as more susceptible to the virus, the etiology of these symptoms remains unclear. An axonal neuropathy has been described in SARS, which raises the specter of a similar process for COVID-19, but EMG/NCS was not performed in patients with sensory symptoms.5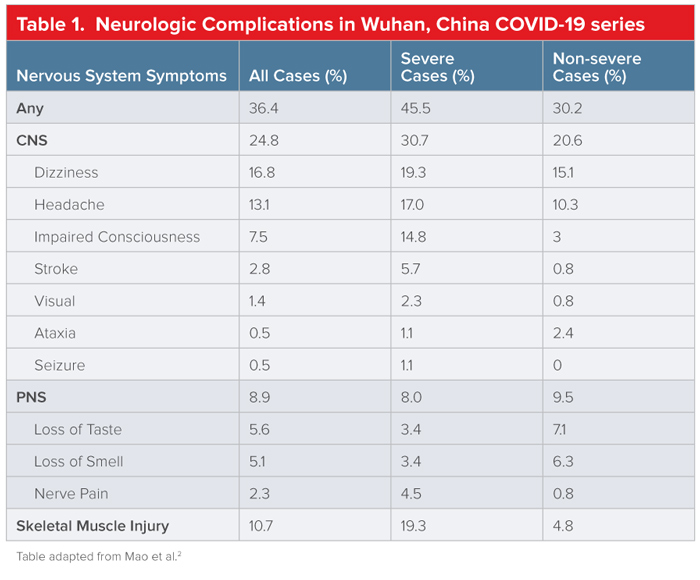 A second case series has since been reported in the New England Journal of Medicine6 examining 58 COVID-19 patients admitted to the intensive care unit in Strasbourg, France in March and April of 2020. A high proportion of these patients (69%) showed evidence of agitation and confusion even as sedation was discontinued. While ICU-related delirium is a very common phenomenon, there were also relatively high rates of meningeal enhancement, corticospinal tract signs, and stroke, which suggest at least a reasonable possibility of specific neurologic COVID-19 sequelae.
Perhaps of greatest concern is a series of strokes in individuals affected by COVID-19 as reported by New York City physicians in a letter also to the New England Journal of Medicine. While the number of individuals is quite small (five), it raises concern for several reasons: 1) all the patients were under 50 years old, 2) the COVID-19 symptoms were otherwise mild or non-existent, and 3) the large cerebral vessels were disproportionately affected. This may provide support to reports from the Netherlands8 of a very overall high rate of thrombotic complications (31%) in severely affected individuals. A series9 of five patients has also been reported out of northern Italy. The patients developed Guillain-Barre syndrome (GBS) with a typical latency of 5-10 days after the onset of COVID-19 symptoms. This is not unexpected given the association of the disease with other coronavirus infections.
At the time of publication, there are no studies available on the long-term cognitive outcomes from the disease. It is worth noting, however, that at least mild cognitive impairment is felt to be quite common after prolonged intensive care hospitalization.10
Underwriting Takeaways
Neurologic symptoms are very common in COVID-19, especially early in the disease. The greatest mortality concern relates to stroke, which tends to occur in more severely affected individuals and may be a manifestation of overall elevated thrombotic risk.
Anosmia (loss of smell) and ageusia (loss of taste) are uniquely associated with the disease, and particular caution is recommended if these symptoms are encountered near the time of application.
Long-term cognitive outcomes related to the disease are unclear at this time, but prolonged intensive care hospitalization of any type often results in some degree of cognitive impairment.
---
References
CDC. "Coronavirus Disease 2019 (COVID-19)." Centers for Disease Control and Prevention, February 11, 2020. https://www.cdc.gov/coronavirus/2019-ncov/need-extra-precautions/groups-at-higher-risk.html.

Mao, Ling, Huijuan Jin, Mengdie Wang, Yu Hu, Shengcai Chen, Quanwei He, Jiang Chang, et al. "Neurologic Manifestations of Hospitalized Patients With Coronavirus Disease 2019 in Wuhan, China." JAMA Neurology, April 10, 2020.
Yan, Carol H., Farhoud Faraji, Divya P. Prajapati, Christine E. Boone, and Adam S. DeConde. "Association of Chemosensory Dysfunction and Covid-19 in Patients Presenting with Influenza-like Symptoms." International Forum of Allergy & Rhinology n/a, no. n/a. Accessed April 27, 2020.
"Loss of Smell and Taste in Combination with Other Symptoms Is a Strong Predictor of COVID-19 Infection | MedRxiv." Accessed April 27, 2020. https://www.medrxiv.org/content/10.1101/2020.04.05.20048421v1.
Pleasure, Samuel J., Ari J. Green, and S. Andrew Josephson. "The Spectrum of Neurologic Disease in the Severe Acute Respiratory Syndrome Coronavirus 2 Pandemic Infection: Neurologists Move to the Frontlines." JAMA Neurology, April 10, 2020.
Pleasure, Samuel J., Ari J. Green, and S. Andrew Josephson. "The Spectrum of Neurologic Disease in the Severe Acute Respiratory Syndrome Coronavirus 2 Pandemic Infection: Neurologists Move to the Frontlines." JAMA Neurology, April 10, 2020.
Placeholder for NEJM article
Klok, F.A., M.J.H.A. Kruip, N.J.M. van der Meer, M.S. Arbous, D.A.M.P.J. Gommers, K.M. Kant, F.H.J. Kaptein, et al. "Incidence of Thrombotic Complications in Critically Ill ICU Patients with COVID-19." Thrombosis Research, April 2020.
Toscano, Gianpaolo, Francesco Palmerini, Sabrina Ravaglia, Luigi Ruiz, Paolo Invernizzi, M. Giovanna Cuzzoni, Diego Franciotta, et al. "Guillain–Barré Syndrome Associated with SARS-CoV-2." New England Journal of Medicine, April 17, 2020. https://doi.org/10.1056/NEJMc2009191.
Prevligliano, I. et al. "Long-Term Cognitive Impairment after Critical Illness – Definition, Incidence, Pathophysiology and Hypothesis of Neurotrophic Treatment," September 10, 2015.