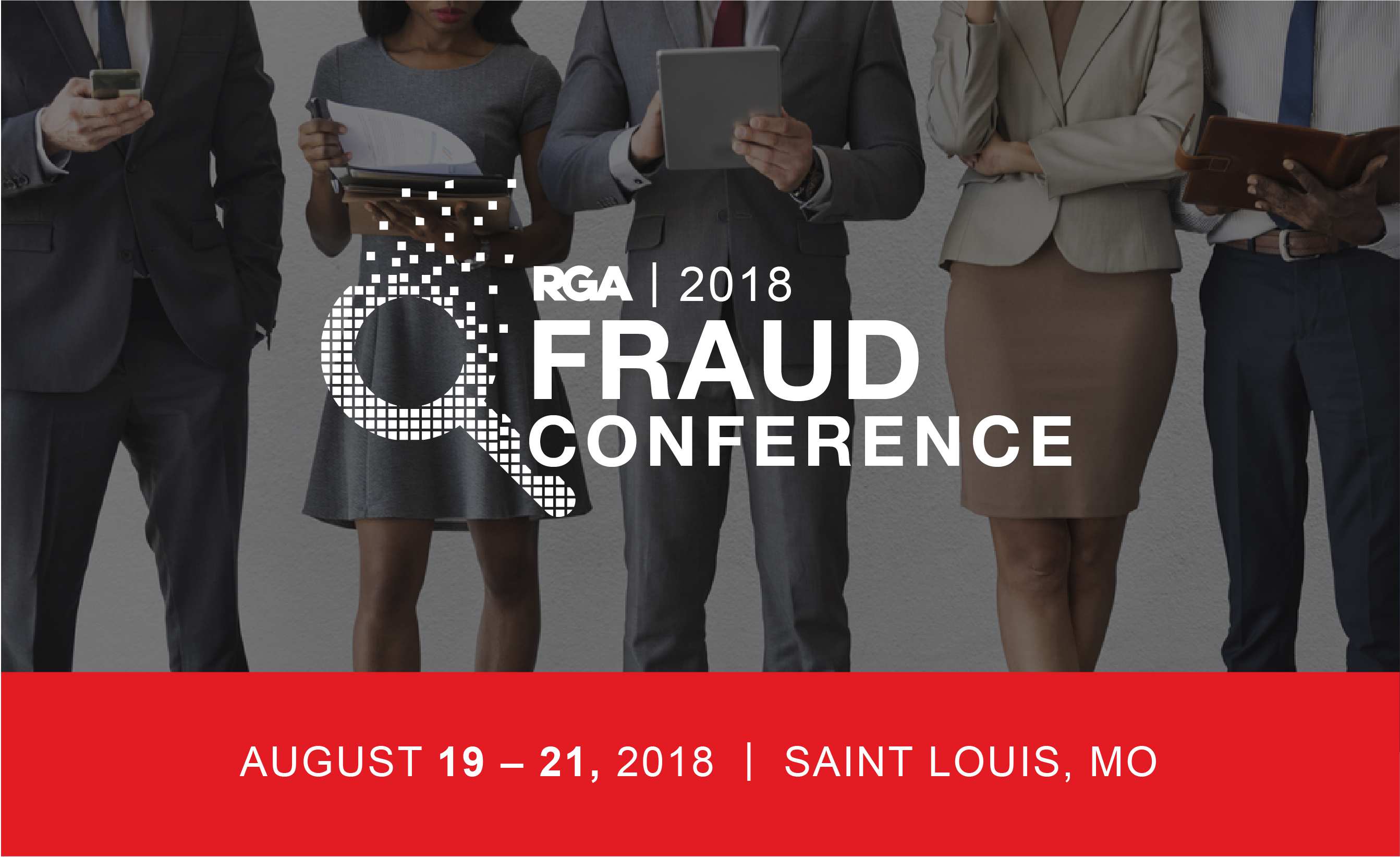 See You Soon for the Premier Cross-Disciplinary Fraud Conference
Experts from the insurance industry and beyond will share their unique insights and perspectives on fraud, including new ways fraud is being committed and how they detect and prevent fraud in their organizations.
A few highlights from this year's agenda include:
Nomadic Claims: The Rubik's Cube of the Insurance Industry:
Mike Ferguson, Co-founder of Worldwide Resources, Inc.
Is Your Reputation Protected:
Tonya Blackmore, CEO of Apexa Corp.
How Demographics and Attitudes Impact Insurance Fraud:


Matthew Smith, Esq., Director of Government Affairs & General Counsel at the Coalition Against Insurance Fraud

Can Behavioral Science Help Reduce the Disclosure Gap?:


Matt Battersby, Chief Behavioral Scientist at RGA

Balancing Risk and Customer Experience in the Digital World:




Jason Ferrall, National Sales Manager – Insurance – Specialized Risk Group at TransUnion

The Art of the Deposition:


David T. McDowell, Partner at McDowell & Hetherington LLP, Thomas F. A. Hetherington, Partner at McDowell & Hetherington LLP, and Scott Grandmont, Vice President of Underwriting Solutions at RGAx

Property and Casualty Fraud - Statistics, Trends and Solutions:


Robert Brady, Attorney and Shareholder at Brown & James, P.C.

ACFE Global Fraud Study and the Insurance Industry:

Amy Ribick, Principal, Advisory Services at Brown Smith Wallace LLP and Ron Steinkamp, Partner, Advisory Services at Brown Smith Wallace LLP
Additional presentations from:
Rahul Deshpande, Senior Vice President of Digital Strategy Integration at Mastercard Incorporated

Kenneth Hughes, Special Agent of the U.S. Secret Service

David McNamara, Advanced Market Consultant at John Hancock and David Moon, General Director of Life Underwriting at John Hancock

Mark R. Aldrich, Supervisory Special Agent at the FBI, St. Louis Division
A beautiful evening at Silver Lakes Chateau, one of the most sought-after venues in the Midwest; a beautiful estate located on 28 acres with a stunning building and outdoor patio space to enjoy your meal with friends new and old.
An afternoon speaker and colleague networking event, where you are encouraged to complete your conference learning experience by interacting one-on-one with some of the brightest minds in the industry.
If you focus on underwriting, claims, actuarial, legal, law enforcement or another insurance-related area, this conference was built for you.
The event begins with a reception Sunday evening, August 19, and concludes with a networking lunch on Tuesday afternoon, August 21, during which attendees can speak with the presenters and each other. For more information, contact:
ALAN HOBBS
ahobbs@rgare.com
+ 1.636.736.7537
MARK DION
mdion@rgare.com
+ 1.636.736.7455
This event is sponsored by RGA Reinsurance Company. Registration is complimentary, but space is limited. Hotel and travel costs are not included.