---
Attend Virtually and Fight Fraud Globally
---
The FBI says insurance fraud costs the average U.S. family as much as $700 a year in increased premiums. And that number is growing.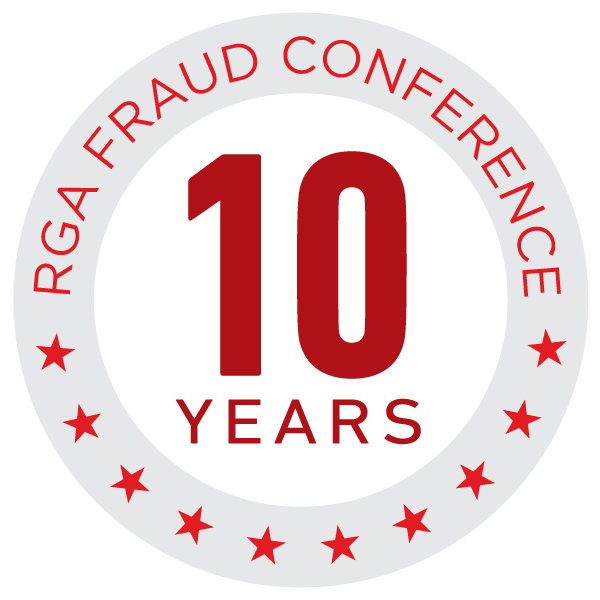 Amid the disruption of a global pandemic that has impacted countless people and communities around the world, insurance fraudsters have continued to pursue and often advance their destructive work.
To help ensure the industry stays connected in the fight against fraud, RGA will be hosting the 10th Annual RGA Fraud Conference virtually August 15-18. The event will consist of two morning sessions each day and offer an agenda filled with the compelling, useful content you've come to expect. And as always, there is no cost to attend.
This year's presentation lineup features a full complement of subject matter experts covering today's most pressing fraud-related issues: the latest in schemes, detection techniques, and approaches to preventing pervasive insurance and financial fraud. We will again feature fraud experts from across industries, functions, and geographies.
The event will be translated live in more than 15 languages, including Arabic, Chinese, Dutch, English, French, German, Hindi, Italian, Japanese, Korean, Portuguese, and Spanish. To access instructions on how to add a language to your computer, click here. It is important to note most companies will prevent employees from adding additional, non-native languages to their computers. You may need to contact your IT department to make language setting changes. To access instructions on how to use Wordly during the conference, click here.
Register now to ensure you receive conference updates and login information for what promises to be an incredible event!

---
---
---
CONFERENCE AGENDA (ALL TIMES ARE CDT)

MONDAY, AUGUST 15

9:00AM
Beware of the Fraud … A Chief Underwriter's Perspective
John Valickus, VP, Chief Underwriter, Lincoln Financial Group
10:00AM
Fraud Detection


Bob Linzey, AVP Claims & Fraud Officer, USAA

TUESDAY, AUGUST 16

9:00AM
The Evolving Landscape of Privacy Law: Implications for Fraud Mitigation
Evan Coppola, Chief Counsel, Global Privacy and Cybersecurity, McKesson Corporation
10:00AM
Investigating Out of Country Death Claims – The Legal Challenges
Marjorie Corvalan, Senior Counsel, Asia Pacific, RGA

WEDNESDAY, AUGUST 17

9:00AM
Emerging Financial Crime And Digital Currency Trends
Brian Cockrill, Assistant to the Special Agent in Charge, United States Secret Service – St. Louis Field Office
Tiffany Loar, Special Agent, United States Secret Service
10:00AM
How Your TPA Helps You Identify and Mitigate Fraud
Carrie Barnes, Assistant General Counsel, Davies Life & Health, Inc.
Lira Consuegra, Director, Claims, Best Doctors Insurance
Rob Frederick, President and Chief Operating Officer, SE2
Moderated by Bob Gooderl, VP, Administration Oversight, RGA

THURSDAY, AUGUST 18

9:00AM
Detecting Forgery: What You Don't Know About Forgery Can Cost Your Case
Ruth Brayer, Certified Forensic Document Examiner, Brayer Handwriting International
10:00AM
Mitigate Insider Threat
Leia Rudikoff, Global Anti-Fraud Officer, Manulife
---
---
---
We hope to see you online for this one-of-a-kind event!
---