France and Belgium
RGA International Reinsurance Company dac
Branch Office for France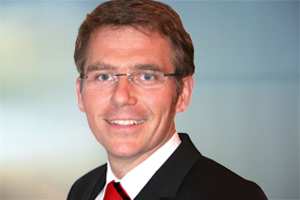 Lionel Périnel
Managing Director
Continental Europe
Lionel Périnel is Managing Director, Continental Europe, for RGA International Reinsurance Company dac. He is responsible for all business activities of RGA International branch offices in France, Germany, Spain, Italy and the Netherlands. Prior to being appointed to his current position in 2017, Lionel was the first Managing Director for France when the branch office opened in 2007, and then was responsible for France and Spain from 2015 to 2017.
Lionel started his career in 1996 as a pricing actuary with AXA in Switzerland. In 1998, he joined Paris-based ERC Frankona (now part of Swiss Re), and in 2003 he became its Managing Director for the French and Belgian markets.
He has a bachelor's degree in actuarial science from the University ISFA (L'Institut de Science Financière et d'Assurances) in Lyon, France, and is a qualified actuary of the French Institute of Actuaries (IA). In 2010, he was elected Vice President of the IA.
​David Dubois
FIA
General Manager
RGA France and Belgium




David Dubois is General Manager of the France and Belgium branch office for RGA International Reinsurance Company dac. He leads business development efforts for the office, which serves clients in France and Belgium, and is responsible for developing RGA's entry strategies into new markets. He is also responsible for executing the initial phases of those strategies, including start-up activities such as market research, establishing RGA's brand, and building local infrastructures.
David has more than 20 years of experience in the life reinsurance industry. Prior to joining RGA in 2010, he was Managing Director of the Life Department for Munich Re France. He was also a Senior Manager for PricewaterhouseCoopers in Paris, and a Deputy Manager for the Life Department of Sorema (GROUPAMA's Reinsurance Group) and Head of Research and Development for SCOR VIE.
His general (DEUG) and master's degrees in economic sciences are from the Free Faculty of Economic Sciences (Catholic University) in Lille, France, and he earned a post-graduate degree (DEA) in economic mathematics and econometrics from the Université Panthéon-Assas (Paris II). He also has an executive M.B.A. from the ESCP-EAP European School of Management in Paris, and is a Fellow of the French Institute of Actuaries. David has been a Faculty Lecturer in Economic Sciences at the University of Paris II, and currently teaches at SKEMA LILLE (Master in Wealth Management) and at the ISR (Institute of Reinsurance).
Since July 2016, David is the Chairman of the French Association of Actuaries.
Staff
Eve-Laure Tascon
Chief Underwriter
Head of Claims
RGA France


Gurvan Le Rhun
Head of Pricing
RGA France

Nicolas Fabreguettes
Head of Finance
RGA France

Miguel María
Administration Manager
France & Spain
RGA France / Sucursal en España