Serious respiratory impairment caused by a hyper-inflammatory response in the lungs to SARS-CoV-2, the virus responsible for COVID-19, is one of the unwelcome consequences of infection, and can result in acute respiratory distress syndrome (ARDS) and lung fibrosis.1
Patients can sustain permanent and irreversible lung damage, leaving many to need life-saving lung transplants to survive. The United Network for Organ Sharing (UNOS) shows that 166 lung transplants in COVID-19 patients have been carried out in the U.S. through the end of December 2021, and it is likely that many more individuals with a history of severe lung disease caused by the virus will require lung transplantations in the years to come.
2
Respiratory infection in SARS-CoV-2
Prior to the Omicron wave, about 10% of COVID-19 patients developed a serious illness, with half resulting in respiratory failure and/or multi-organ failure. Many of these patients are elderly with underlying health conditions, and mortality rates in those requiring advanced respiratory support have exceeded 60%.3 The alveoli, tiny air sacs in the lungs responsible for gas exchange with the blood, are destroyed during the inflammatory response to the virus, leaving fibrotic scar tissue and a 'honeycomb like' appearance, rendering the lungs incapable of recovery.4 Other signs of lung damage on chest computer tomography (CT) show ground glass opacities (GGOs) and bronchiectasis. Thankfully, most patients with COVID-19 lung fibrosis have a gradual improvement in lung function and oxygen saturation after receipt of high flow oxygen or non-invasive ventilation.5
The alveoli, tiny air sacs in the lungs responsible for gas exchange with the blood, are destroyed during the inflammatory response to the virus.
Respiratory support
Of those who are admitted to hospital for COVID-19, many patients will end up in intensive care (ICU) on a mechanical ventilator (MV) or on extracorporeal membrane oxygenation (ECMO). ECMO works by temporarily drawing blood from the body to allow for artificial oxygenation of red blood cells and the removal of carbon dioxide, whereas a mechanical ventilator is a machine that takes over the work of breathing when a person is not able to breathe sufficiently on their own. Roughly 6.9% of COVID-19 patients admitted to hospital receive ECMO, for an average of 15 days. Patients' mean age is 51 years, and the majority (71%) are male. Despite receiving respiratory support, the mortality of patients after initiation of ECMO exceeds 39%,while a mortality rate of nearly 50% for patients on MV has been reported, which is significantly higher (>70%) in patients aged 60 years and over.6,7,8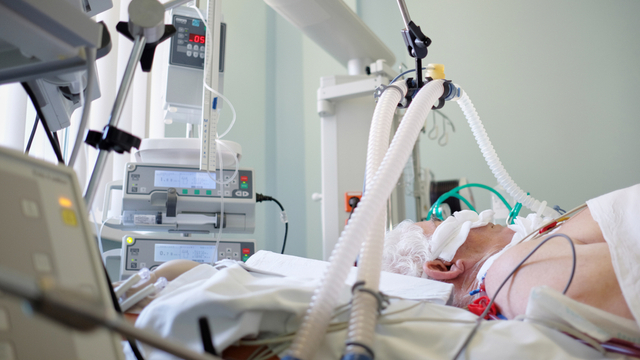 While MV and ECMO provide supportive oxygen, the increased stress caused by prolonged positive pressure ventilation can cause direct barotrauma injury to the lungs. This leaves patients at risk of poor overall outcome and death because of the problems associated with long term ventilation.7 Even as early as 2-3 days after initiation of MV, the diaphragm can lose up to 50% of its muscle fibers. Another significant problem is the onset of acute kidney injury (AKI), which occurs in about 35% of COVID-19 patients who are hospitalized. Of these, 12-15% will require renal replacement therapy, e.g., dialysis. Prolonged ECMO can also lead to platelet dysfunction in a high percentage of COVID-19 patients.5,9
Figure 1: Risk factors for mortality in ECMO patients with COVID-1910
Long term respiratory health outcomes in patients previously infected with SARS-CoV-2
The length of time on MV has been shown to be an independent predictor of both CT and pulmonary function test (PFT) abnormalities. An Italian study found that three months after discharge from the ICU, 59% of ARDS survivors showed radiological evidence of pulmonary abnormalities in greater than 20% of the lung tissue. Risk factors for the development of post-COVID fibrosis include older age, increased severity of illness, lengthy ICU stay, duration of mechanical ventilation, and a history of smoking or alcoholism.5,6

Additionally, the extent of lung tissue involvement following infection is a predictive factor in pathological outcomes and lung abnormalities after initial COVID-19 infection. Even people who have recovered from moderate infection are being admitted to hospital months after clearing the virus, displaying reduced oxygen supply and pulmonary fibrosis.4 PFTs in patients four months after infection showed that total lung capacity (TLC), forced vital capacity (FVC), and forced expiratory volume in 1 second (FEV1) were significantly lower in patients after severe/critical COVID-19 compared to patients after mild/moderate disease. The FVC percent predicted was 9% (95% CI 1.5–16.4%) lower and TLC percent predicted was 16% lower after severe/critical COVID-19 than after mild/moderate COVID-19.11
Lung transplantation in COVID-19 patients
In 2021, 2,524 lung transplants were conducted in the U.S., of which 151 (5.9%) were for ARDS in COVID-19 patients, however the proportion of lung transplants in COVID-19 patients has been reported to be as high as 9% of all lung transplants in other countries.2,12
Lung transplantation should be considered for patients with static or progressive disease where there is significant and irreversible lung damage. Contra-indications include age >65 years, current or recent malignancy of less than two years, considerable chest wall deformity, a BMI <17 or >35, neurological dysfunction, or other major organ dysfunction.9 Criteria for assessment also include having two negative reverse transcriptase polymerase chain reaction (rtPCR) tests performed on bronchoalveolar lavage (BAL) fluid samples 24 hours apart prior to transplantation. Immunocompromised patients can harbor active SARS-CoV-2 for up to 20 days after symptoms onset, far longer than that of healthy individuals, so having a negative PCR result reduces the likelihood of ongoing active infection in the transplanted graft.5
Critically, it is important to consider the possibility of carrying out a lung transplant too early and not giving the lungs a realistic chance of recovery. Conversely, carrying out a transplant too late may render the patient not well enough to survive the operation and have a chance of meaningful recovery. A minimum of 4-6 weeks' time for recovery from COVID-19 is recommended before transplant should be considered, as some GGOs appear in early infection due to alveolar filling but are potentially reversible.5
Outcomes in COVID-19 lung transplant patients
Better outcomes after lung transplantation have been found in patients when they are taken off MV and moved to ECMO prior to surgery, are awake, and can participate in pre-surgery physiotherapy. Recipient age is a significant predictor of postoperative mortality, with younger lives having a better outlook over those who are aged over 55 years.13

Lung transplant patients are required to take anti-rejection drugs for the rest of their lives and must go through a long period of rehabilitation following the procedure.4 COVID-19 patients are more likely to have primary graft dysfunction (70% versus 20.8%), a longer ICU stay (18 versus 9 days), and permanent hemodialysis (13.3% versus 5.5%) following lung transplantation than patients receiving lung transplants for reasons other than COVID-19. Data show that of all lung transplants carried out in the US, the 30-day survival is approximately 98%, falling to 90% at one-year, 75-78% at three-years and 60-70% at five-years.14, 15
Conclusion
Lung transplantation in COVID-19 patients is an option of last resort and patients can only be considered for transplantation if they meet strict criteria. Even then, there may be no deceased donor lung organ available for transplant. Mortality from ARDS in COVID-19 patients remains extremely high, and even for discharged patients with a history of moderate to severe disease, many are returning to hospital with reduced oxygen supply and pulmonary fibrosis months after infection. Life insurance applicants with a history of moderate to severe disease must be carefully underwritten for cover noting this concern, even if they appear to have initially recovered from SARS-CoV-2 infection.
As the pandemic evolves, new implications and data-driven insights will continue to emerge, which RGA will continue to investigate. Please contact us for insights.
---

References
Weill, D. (2021). Lung transplants after COVID-19 raise difficult issues. Stat Feb 23, 2021. Available from: Lung transplants after Covid-19 raise difficult issues - STAT (statnews.com) https://www.statnews.com/2021/02/23/lung-transplants-after-covid-raise-issues/ [accessed Jan 2022]
U.S. Dept of Health and Human Services (2022). Organ procurement and transplantation network.Available from: Build advanced - OPTN (hrsa.gov) https://optn.transplant.hrsa.gov/data/view-data-reports/build-advanced/ [accessed Jan 2022]
Gogia, P. et al (2021). Lung transplantation for post-COVID-19 pulmonary fibrosis. Respirology Case Reports 2021 Nov; 9(11): e0862. Available from: Lung transplantation for post‐COVID‐19 pulmonary fibrosis (nih.gov) https://www.ncbi.nlm.nih.gov/pmc/articles/PMC8524671/ [accessed Jan 2022]
Gale, J. (2021). Double-lung transplants rise after Covid 'honeycombs' organs. Bloomberg June 17, 2021. Available from: Double-Lung Transplants Rise After Covid 'Honeycombs' Organs - Bloomberg https://www.bloomberg.com/news/articles/2021-06-17/double-lung-transplants-rise-after-covid-honeycombs-organs [accessed Jan 2022]
King, C.S. et al (2022). Lung transplantation for patients with Covid-19. Chest; 161(1): 169-178.Available from: Lung Transplantation for Patients With COVID-19 - CHEST (chestnet.org) https://journal.chestnet.org/article/S0012-3692(21)03668-0/fulltext [accessed Jan 2022]
Compagnone, N. et al (2021). Residual lung damage following ARDS in COVID-19 ICU survivors. Acta Anasthesiology Scandanavia 2021 Nov 10; 10.1111/aas.13996. Available from: Residual lung damage following ARDS in COVID‐19 ICU survivors (nih.gov) https://www.ncbi.nlm.nih.gov/pmc/articles/PMC8652634/ [accessed Jan 2022]
Bertini, P. et al (2021). ECMO in COVID-19 patients: a systematic review and meta-analysis. Journal of Cardiothoracic and Vascular Anesthesia 000 (2021); 1-7. Available from: https://www.ncbi.nlm.nih.gov/pmc/articles/PMC8585556/pdf/main.pdf https://www.ncbi.nlm.nih.gov/pmc/articles/PMC8585556/pdf/main.pdf [accessed Jan 2022]
Manickavel, S., Sinha, N. (2021). A pandemic of acute respiratory distress syndrome – role of lung transplant in coronavirus disease-2019-associated respiratory failure. Journal of Thoracic and Cardiovascular Surgery 2021 Sept 1; 37(Suppl 3): 1-7. Available from: A pandemic of acute respiratory distress syndrome-role of lung transplant in coronavirus disease-2019-associated respiratory failure - PubMed (nih.gov) https://pubmed.ncbi.nlm.nih.gov/34483505/ [accessed Jan 2022]
Bharat, A. et al (2021). Early outcomes after lung transplantation for severe COVID-19: a series of the first consecutive cases from four countries. Lancet Respir Med 2021 May; 9(5): 487-497. Available from: Early outcomes after lung transplantation for severe COVID-19: a series of the first consecutive cases from four countries (nih.gov) https://www.ncbi.nlm.nih.gov/pmc/articles/PMC8012035/ [accessed Jan 2022]
Barbara, RP. et al (2020). Extracorporeal membrane oxygenation support in COVID-19; an international cohort study of the Extracorporeal Life Support Organization registry. Lancet 2020 Oct 10; 396(10257): 1071-1078. Available from: Extracorporeal membrane oxygenation support in COVID-19: an international cohort study of the Extracorporeal Life Support Organization registry - PubMed (nih.gov) https://pubmed.ncbi.nlm.nih.gov/32987008/ [accessed Jan 2022]
Guler, SA. et al (2020). Pulmonary function and radiological features 4 months after COVID-19: first results from the national prospective observational Swiss COVID-19 lung study. The European Respiratory Journal 2021 Apr; 57(4): 2003690. Available from: Pulmonary function and radiological features 4 months after COVID-19: first results from the national prospective observational Swiss COVID-19 lung study - PubMed (nih.gov) https://pubmed.ncbi.nlm.nih.gov/33419891/ [accessed Jan 2022]
Reis, FPD. et al (2021). Brazilian initial experience with lung transplantation due to irreversible lung fibrosis post-COVID-19 in a national reference center: a cohort study. Sao Paulo Medical Journal 2021 Dec 17; S1516- 31802021005030204. Available from: Brazilian initial experience with lung transplantation due to irreversible lung fibrosis post-COVID-19 in a national reference center: a cohort study - PubMed (nih.gov) https://pubmed.ncbi.nlm.nih.gov/34932782/ [accessed Jan 2022]
Domjan, M. et al (2021). Lung transplantation for end-stage respiratory failure after severe COVID-19: a report of 2 cases. Transplantation Proceedings; 53(8): 2195-2197. Available from: Lung Transplantation for End-Stage Respiratory Failure After Severe COVID-19: A Report of 2 Cases (nih.gov) https://www.ncbi.nlm.nih.gov/pmc/articles/PMC8397535/ [accessed Jan 2022]
Walter, K. (2021). Lung transplants for Covid-19 – the option of last resort. JAMA July 6, 2021; 326(1): 14-16. Available from: Lung Transplants for COVID-19—The Option of Last Resort | Cardiothoracic Surgery | JAMA | JAMA Network https://jamanetwork.com/journals/jama/fullarticle/2781358 [accessed Jan 2022]
Kurihara, C. et al (2022). Clinical characteristics and outcomes of patients with COVID-19 associated acute respiratory distress syndrome who underwent lung transplant. JAMA 2022 Jan 27. doi: 10.1001/jama.2022.0204. Available from: Clinical Characteristics and Outcomes of Patients With COVID-19-Associated Acute Respiratory Distress Syndrome Who Underwent Lung Transplant - PubMed (nih.gov) https://pubmed.ncbi.nlm.nih.gov/35085383/ [accessed Jan 2022]