Companies can incur significant expenses when issuing a life insurance policy.
If a policy lapses during the first few durations, the insurance company will not have collected sufficient premiums to recover underwriting and other acquisition costs. Applicants who routinely replace policies and agents who churn their book of business for commission purposes can prove to be quite expensive for an insurance company falling victim to this fraud. Unfortunately, for the insurer, these activities are very difficult to detect.
RGA recently completed a study with MIB Group, Inc ("MIB") with the primary goal of quantifying the link between an individual's level of prior insurance activity and the risk of early policy lapsation. This paper summarizes the findings of that study.
Executive Summary
The researchers completed a matched case-control study to relate MIB's Extended Application Activity (EAA) alert to the risk of early policy lapsation. The results of the study suggest that a new policy issued with the EAA alert attached to it has greater than twice the risk of early lapsation. This result is supported across many variables including gender, issue age, risk class, product type, issue year, size band, and most issuing companies. In particular, the risk of lapse increased significantly for policies with smaller face amounts, those issued to older ages (50 and up), and those issued to females.
The "cases" in this study are based on a "lapsed cohort", consisting of policies known to have lapsed during the first two policy durations. Four separate "control group cohorts" were also created by linking each policy in the lapsed cohort to four distinct and demographically equivalent policies.
By matching the control group cohorts to the lapsed cohort, we were able to control for many variables, including several known drivers of policy lapsation in order to more accurately isolate the independent value of the MIB EAA alert as an indicator of early lapse risk.
The lapsed cohort contains 369,279 policies, with nearly 2% having the EAA alert. Each control group contains the demographically equivalent policies, but less than 1% of each control group would have returned the EAA alert.

In a case-control study, a "pair" is defined as one case (i.e., an early duration lapsed policy) and a demographically similar control (i.e., a persister). The discordant pairs are used to calculate the odds ratios presented in the following chart. The overall average odds ratio is 2.20, which suggests a 120% higher risk of an early lapse for policies returning the EAA alert. The odds ratios for each of the four control groups are very similar, so averages of the four control groups will be presented throughout the rest of the paper.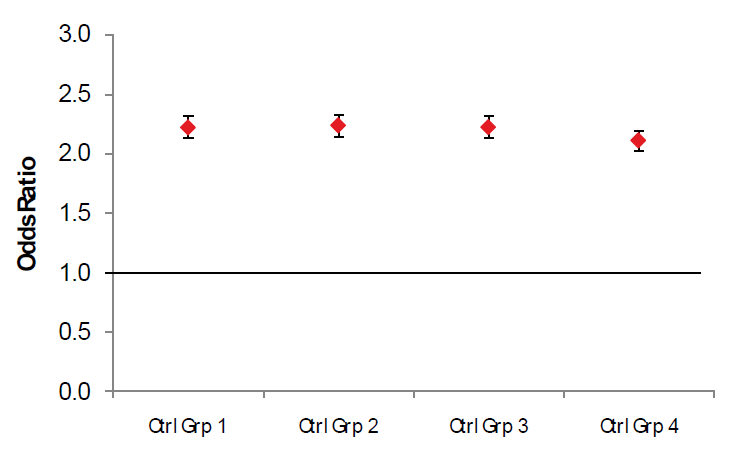 Read More +