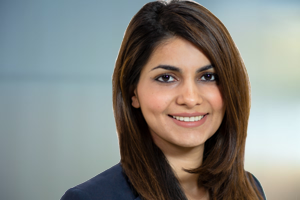 Bhabya Tewari is an Associate on the Private Debt & Equity team. Her primary focus is underwriting funds, subordinated debt, and equity co-investments in middle market companies alongside private equity sponsors.
Bhabya joined the team in May 2018 after completing her Master of Business Administration (M.B.A.) from Olin Business School at Washington University in St. Louis, prior to which she worked in the commercial and corporate banking industry in Mumbai, India. As a relationship manager, Bhabya was responsible for originating and underwriting commercial loans, and managing a portfolio of middle market companies across a broad range of industries. She specialized in corporate lending, trade and receivables finance, and structured loans.
Bhabya has a Master of Finance degree from the London School of Economics (LSE), and received her Bachelor of Arts in economics and statistics from St. Xavier's College, Mumbai.