Asia Pacific
Overview


Asia Pacific regulatory regimes are trending towards risk-based frameworks, prompting clients to seek innovative solutions to enhance capital and risk management. Serving all major Asia Pacific markets, RGA's Global Financial Solutions (GFS) team has extensive experience in developing innovative risk- and capital-management solutions for insurance companies, bancassurers, and pension funds.

RGA has offered capital-motivated reinsurance solutions to Asia Pacific clients since 1996. We are one of the world's largest providers of surplus relief and among the most established providers of innovative and structured reinsurance solutions in Asia. RGA also has executed asset-intensive transactions in a number of Asian markets. Our activities are supported by seasoned GFS business development, pricing and product support teams throughout Asia. In countries where capital-motivated reinsurance is not as common, we actively work with our clients and local regulators to develop efficient and cost-effective reinsurance solutions to better manage capital challenges, such as new business strain and improve shareholders' return on capital.

RGA's deep knowledge of our clients' business objectives and local markets allows us to more effectively meet their needs today, and we constantly research and develop new products and structures to remain at the forefront of the industry.

Meet Our Asia Pacific Team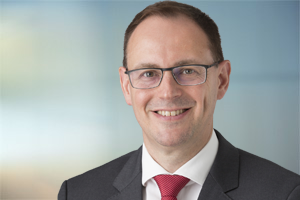 Gaston Nossiter
FIAA, CFA
Senior Vice President
Global Financial Solutions

Gaston Nossiter, Senior Vice President, Global Financial Solutions, leads and manages the initiation and placement of reinsurance transactions pertaining to non-traditional initiatives in RGA's Asia Pacific region. He is located in the Asia Pacific regional office in Hong Kong.
Gaston has nearly 20 years of experience in global financial services. He is an experienced team manager, developing and structuring innovative products and strategies to enhance risk and capital management for pension funds and insurance companies. Before joining RGA in 2009, he worked for Morgan Stanley as an advisor to senior management of life insurance companies and pension funds regarding asset and liability management, risk management, and capital management strategies to increase return on capital, enhance equity valuation, and improve credit ratings. Prior to joining Morgan Stanley, Gaston worked internationally with the consulting firm of Towers Perrin. He has worked in London, Sydney, Brussels and Tokyo, in addition to Hong Kong.
Originally from Australia, Gaston graduated from Macquarie University in 1993 with a Master of Economics. He also received an M.B.A. with distinction from the London Business School. He is a Fellow of the Institute of Actuaries of Australia (FIAA) and a Chartered Financial Analyst (CFA).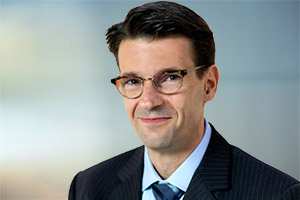 René Cotting, Ph.D.
Senior Vice President,
Asset-Intensive
Global Financial Solutions
As Senior Vice President, Asset-Intensive, Global Financial Solutions (GFS), René Cotting leads a global team in the development of novel financial reinsurance solutions to help RGA clients respond to regulatory and market changes. The team also provides transaction structuring and pricing support. He is based in RGA's Singapore office.
René is a seasoned finance professional with over 24 years of experience in reinsurance, investment banking, consulting, and research. He has successfully originated, structured and executed transactions in Asia, Australia, Europe, and North America. Prior to joining RGA in 2009, René was Executive Director, FI Solutions Group – Insurance for the Dutch state-owned bank ABN AMRO/RBS (Royal Bank of Scotland), serving as the head of its London desk and focusing on regulatory and economic capital optimization for both the life and non-life markets, and on life insurance product development. Before that, he was Vice President, Insurance & Weather Derivatives for ABN AMRO. René began his career with positions at Zurich Financial Services and Zurich Re.
René received his Diploma in chemistry and Doctor of Philosophy degrees from Zurich University. He also completed the International Executive Development Program at INSEAD, a graduate business school with campuses in France, Singapore, and Abu Dhabi.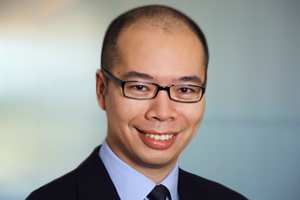 George Chow
FSA, FCIA, FIA, CFA
Senior Vice President, Pricing
GFS Asia Pacific
Global Financial Solutions
George Chow is Senior Vice President, Head of Asia Pacific Regional Pricing in the Global Financial Solutions (GFS) unit of RGA. Based in Singapore, he leads a team of pricing professionals in the structuring, modeling and risk assessment of capital motivated, asset intensive and longevity transactions for the Asia Pacific region.
George has more than 15 years of reinsurance experience with RGA in a wide range of actuarial and management roles. He began his career at RGA in 2000 and has worked in the U.K., Canada, Hong Kong and Japan, with responsibilities that have included management of the pricing and valuation teams as well as providing product development and marketing support.
Prior to joining RGA, George worked for a Canadian insurance company in Canada and the U.K., where his roles included pricing pension annuities, asset liability management and providing support to the company's demutualization.
George graduated with a Bachelor of Mathematics (BMath) degree from the University of Waterloo, in Ontario, Canada. He is a Fellow of the Society of Actuaries (FSA), the Institute of Actuaries (FIA), and of the Canadian Institute of Actuaries (CFIA). He also is a CFA charterholder.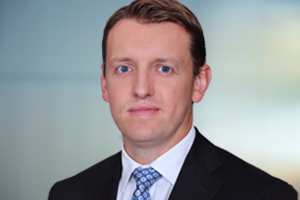 Michael Thomas
FFA
Vice President
Business Development, Asia
Global Financial Solutions
Michael Thomas is Vice President, Business Development with RGA's Global Financial Solutions (GFS) unit in Asia. Michael has responsibility for cultivating GFS opportunities with local Hong Kong and regional clients, including leading product design and structuring for asset-intensive, coinsurance, and financial reinsurance transactions. Michael joined RGA in 2015 and is based in Hong Kong.
Michael has more than 17 years of experience in financial services across key markets in Asia, Europe, the U.K., and Africa. Before joining RGA in Asia, Michael worked for a prominent European investment bank, leading the product development, pricing and structuring of longevity, pension, and reinsurance financing transactions in the U.K. and Europe. Working alongside the executive of the group's internal insurance subsidiary, Michael handled new corporate transactions and strategic investments, and acted as a member of the investment committee. Prior to that, he served as a Director in the Actuarial & Insurance Practice at Deloitte UK, where he led advisory work during and following the global financial crisis in various corporate restructuring processes, mergers and acquisitions.
An active member of the insurance community, Michael has spoken at a number of industry conventions and conferences about capital optimisation, reinsurance, risk management, insurance securitization, and reorganization activity.
Michael holds a Master of Science (M.Sc.) degree in financial engineering and is a Fellow of the Institute and Faculty of Actuaries (FFA).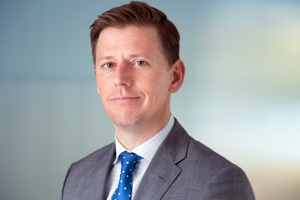 Simon Armand-Smith
FIA

Vice President, Business Development,
Global Financial Solutions
RGA Japan
Simon Armand-Smith is Vice President, Business Development for RGA's Global Financial Solutions (GFS) unit, responsible for leading all aspects of GFS for RGA Japan, and for coordinating closely with other functions in the Japan operation to further develop GFS business in that market. He is based in Tokyo.
Prior to joining RGA in 2018, Simon worked at PwC in Tokyo. He has 20 years of experience in insurance and finance, split almost evenly between actuarial roles and positions in investments and capital markets. He was previously Head of Investment Risk with Beazley Insurance, and he served in other roles with PwC in London, and with Aon Benfield and Dresdner Kleinwort in Tokyo.
Simon is from the U.K. and received a Bachelor of Science in mathematics from University College, London, and a Master of Science in financial mathematics from Stanford University. He is a Fellow of the Institute of Actuaries (FIA).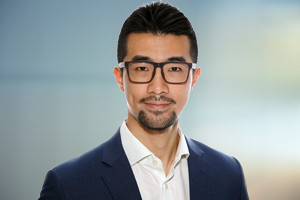 Ge Liu
ASA
Executive Director, Business Development, China
Global Financial Solutions



As Executive Director of Business Development for RGA Global Financial Solutions (GFS), Ge Liu is responsible for growing and supporting GFS opportunities in mainland China, Taiwan and Hong Kong. He has expertise in hedging, capital management, and business development, and has been with RGA since 2017.
Prior to RGA, Ge held various positions with AXA in both France and the U.S., most recently serving as CFO for the Individual Annuity and In-force business lines.
Ge studied at both the Sorbonne and at State University of New York (SUNY), and received Bachelor of Science degrees in both actuarial science and economics from SUNY. He is an Associate of the Society of Actuaries (ASA).