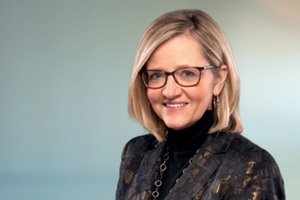 Gay Burns
Executive Vice President
Reinsurance Group of
America, Incorporated
Gay Burns is Executive Vice President for Reinsurance Group of America, Incorporated (RGA). She is also a member of RGA's Executive Committee. Gay joined RGA in 2011 as Chief Human Resources Officer and held that role until April 2022. After announcing her upcoming retirement, Gay assumed the role of Advisor to the CEO.
Gay has more than 30 years of global experience in human resource management, in both reinsurance and financial services. Prior to joining RGA in 2011, she was with Swiss Re, where she worked in Zurich, Switzerland as the Managing Director, Talent Development and as Managing Director, Global HR Operations. Before then, she was a human resources executive with Employer's Reinsurance Corporation, a General Electric subsidiary. She also held several human resources positions during her tenure with GE Capital's credit card and vehicle leasing businesses and in GE's Six Sigma organization. She is a certified Six Sigma Black Belt.
Gay's Bachelor of Science degree in Business Administration (B.S.B.A.) is from Missouri Southern State University, and her Master of Business Administration degree (M.B.A.) is from Webster University, in Missouri. In 2013, she was recognized by the St. Louis Business Journal as one of St. Louis's "25 Most Influential Business Women." An active member of the local business community, Gay is a former member of the Board of Directors for FOCUS St. Louis, chair of the Compensation Committee and Vice-Chair of the Board of Trustees for Webster University, a member of the Immigration & Innovation Steering Committee of the St. Louis Mosaic Project, and a member of the United Way of St. Louis's de Tocqueville Society. Gay has also chaired the RGA Foundation since its inception in 2015.