ReCap NW/N.Cal.
Dec 11, 2017, 01:30 AM
Southeast Asia Health
RGA Reinsurance Company
Overview

RGA has extensive worldwide experience on developing and managing Medical Reimbursement products and with Health in Southeast Asia now a major focus, we are pleased to offer our client's access to our dedicated South East Asia, Health Team to support growth of sustainable Medical Reimbursement propositions.
Other than providing advice on medical product design and benefit pricing, our growing team of health experts offer true partnership support across the value chain, offering a range of core and value-added services.

To be recognized as the foremost expert in South East Asia health insurance, through embracing the following core values: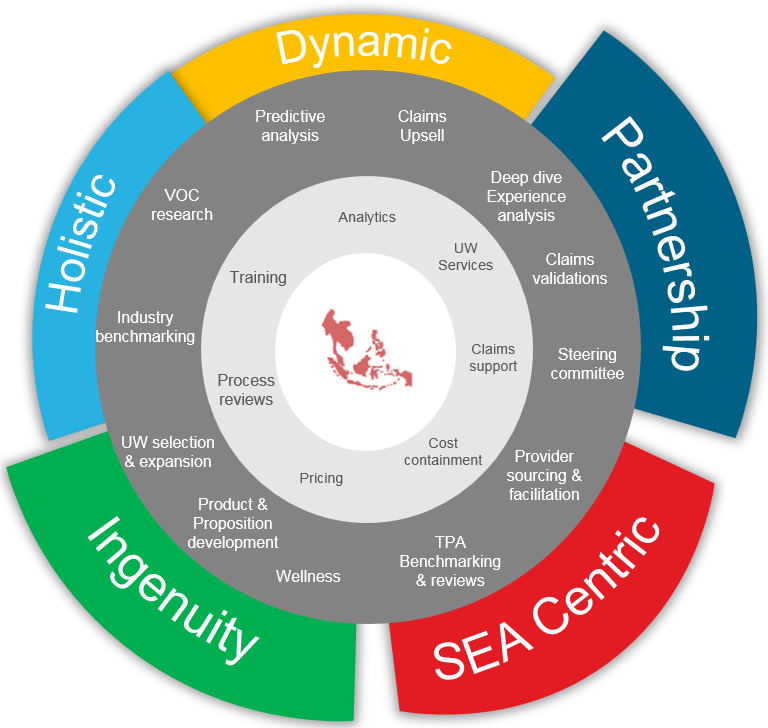 SEA Centric team attuned to local challenges and opportunities with a fully dedicated SEA team to provide locally sourced and sustainable solutions
"Partnership' trusted partner with deep expertise in analytical studies to effectively monitor & manage the end-to-end health insurance process and performance
"Ingenuity" first to market on accessible and tailored products and propositions for sustainable growth
As your exclusive partner, our Southeast Asia Health team will support throughout the product development and approval process, and will coordinate closely with you to meet the filing target timeline. After regulatory sign off, we shall continue to act as your partner and support the development of underwriting and claims practices, provider negotiations and agency training. Thereafter, we are there to support you on managing performance and taking timely corrective actions if and when adverse experience is identified.
Support and Services:
Pre-Product Launch

Product Design and Pricing
Product Approval and Regulatory Filing
Claims, Underwriting and ControlFramework
Third Party Services

Support and Services:
Post-Product Launch

Experience Steering Committee
Actuarial Experience Studies and Management Reports
Underwriting Services
Claims Management Services
RGA's Automated Solutions for Claims Leakage (RASCL)
Predictive Analytics
RGA International Reinsurance Company dac
Singapore Branch
5 Temasek Boulevard
#05-03/04 Suntec Tower Five
Singapore 038985
T 65.6692.9380
F 65.6692.9370
ReCap NW/N.Cal.
Dec 11, 2017, 01:30 AM