詳しくはこちら
New biomarkers are constantly being discovered and research continues into their application in clinical practice. Not all biomarkers can be used as screening tools for insurance purposes, but they can still provide useful information within a blood profile when assessed at underwriting stage and must not be discounted. It is important that biomarkers are properly interpreted and that the underwriter understands the data presented and how it affects the overall risk profile.

What is proPSA?

Due to the inherent problems with prostate-specific antigen (PSA) values and false positive results, several new biomarkers for prostate cancer (PCa) have been discovered in recent years. These include p2PSA, a prostate cancer-specific
isoform of free PSA (fPSA), which is more concentrated in peripheral gland cancer tissue and is almost solely expressed by prostate cancer cells3. It is also notably higher in patients diagnosed with PCa1.

There is a need for new biomarkers not only to identify early prostate cancer but also the more aggressive cancers for which treatment is most beneficial. So far, studies have shown that p2PSA rises with increasing Gleason scores (GS) and is higher in aggressive cancers 8.

Further to this, the U.S. Food and Drug Administration has approved the Prostate Health Index (PHI), which incorporates p2PSA, fPSA and total PSA (tPSA) with the formula [(p2PSA/ fPSA) x √(tPSA)]4. The PHI has been shown to be 2.5 times more specific in detecting prostate cancer in patients with PSA values in the 4-10 ng/mL range, resulting in a 31% reduction in unnecessary biopsies2. Both p2PSA and PHI have also been found to be the only raised biomarkers in those with PSA < 4 ng/mL and a negative digital rectal exam (DRE) several months before a diagnosis of PCa is made3.

The following evidence supports the association between these new biomarkers and Gleason scores greater than or equal to 7, with PHI additionally found to be a useful clinical marker for men with a family history of prostate cancer1:
Catalona et al. showed %p2PSA (p2PSA/fPSA x 100) significantly improved specificity for PCa for PSA in the 2-4 ng/mL range, identifying 90% of cancers including all extra-capsular tumors and 96.6% with GS > 71.
Sokoll et al. examined data from 119 men with PSA 2.5-4 ng/mL, and found that at a sensitivity of 75%, specificity for %p2PSA was considerably greater than for %fPSA (59% v. 33%)1.
Heidegger et al. showed that p2PSA was able to distinguish aggressive PCa from benign conditions one to four years before diagnosis in Caucasians in their early 60s, with the highest predictive values at one to two years5, as shown in the table below. They also found that preoperative p2PSA values were significantly higher in PCa with nodal involvement (> T3a) compared to men with organ-confined cancer (< T2c) in years 1, 2, 3 and 4 before diagnosis. Levels were highest for those with GS > 8 and lowest for those with GS < 65.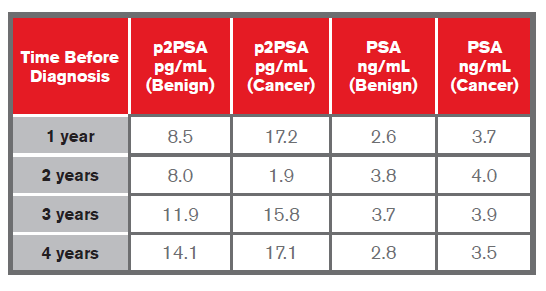 A study by Mikolajczyk et al. of 380 men with PSA 4-10 ng/mL showed that p2PSA, with a sensitivity of 90%, would have resulted in 36% fewer biopsies1.
In a multicenter European study by Lazzeri et al. of patients with a total PSA of 2-10 ng/mL, PCa was diagnosed in 40.1%. The %p2PSA and PHI were found to be the strongest predictors of PCa at initial biopsy, being significantly more accurate than PSA or %fPSA. At a PHI cut-off of 28.8, 116 biopsies could have been avoided, with PCa overlooked in six cases but none being GS > 76.
These studies would indicate a close correlation between higher values of p2PSA and a diagnosis of prostate malignancy. PSA is organ- but not cancer-specific, and can be raised in the presence of benign prostatic hyperplasia (BPH), in genitourinary infections or post DRE1. A second problem with PSA values is its low specificity (below 10 ng/ mL), where cancer is still detected in up to 25% of patients, with an even higher percentage of patients undergoing needless biopsy4. Treatments for indolent cancers can lead to complications such as urinary incontinence, erectile dysfunction and/or hormonal changes5.

In 2012, the United States Preventive Services Task Force issued a Grade D recommendation ("discourage the use of this service") against prostate cancer screening for men of all ages. While there would be one fewer prostate cancer death for every 1,000 men screened, there would also be 30-40 men with subsequent incontinence or erectile dysfunction7.

The Melbourne Consensus Statement, created by a group of international experts and the European Association of Urology, recommended baseline screenings of men in their 40s, but also stated that PSA testing should not be considered on its own but as part of a multivariable approach to prostate cancer detection7.

Most recently, in October 2014, the Canadian Task Force on Preventative Health
Care recommended against screening using the PSA test in the general population, based on the harms outweighing the benefits of a 0.1% reduction in deaths due to prostate cancer using screening.
Read More +