The sheer scale of the global pandemic of 2020 has a way of blocking the view ahead.

Yet while many life and health insurers still struggle to precisely predict a post-COVID-19 future, RGA's Voice of the Customer market research in Hong Kong suggests the pandemic may have raised consumer awareness of and need for life and health insurance products and provides valuable insights into ways carriers can adapt.
Life protection has never been more popular among Hong Kong consumers in RGA's survey – a trend that could indicate a broader shift in public views due to Hong Kong's status as a major commercial and financial hub in Asia. RGA surveyed a broad cross-section of 1,012 consumers in Hong Kong in June 2020 and found that the majority (over 60%) held more positive feelings toward the insurance industry than at the start of the pandemic. According to the survey, this improvement in public perception is driven by the realization of the importance of life and health insurance and increased awareness of personal insurance protection, as well as insurers' response to the crisis.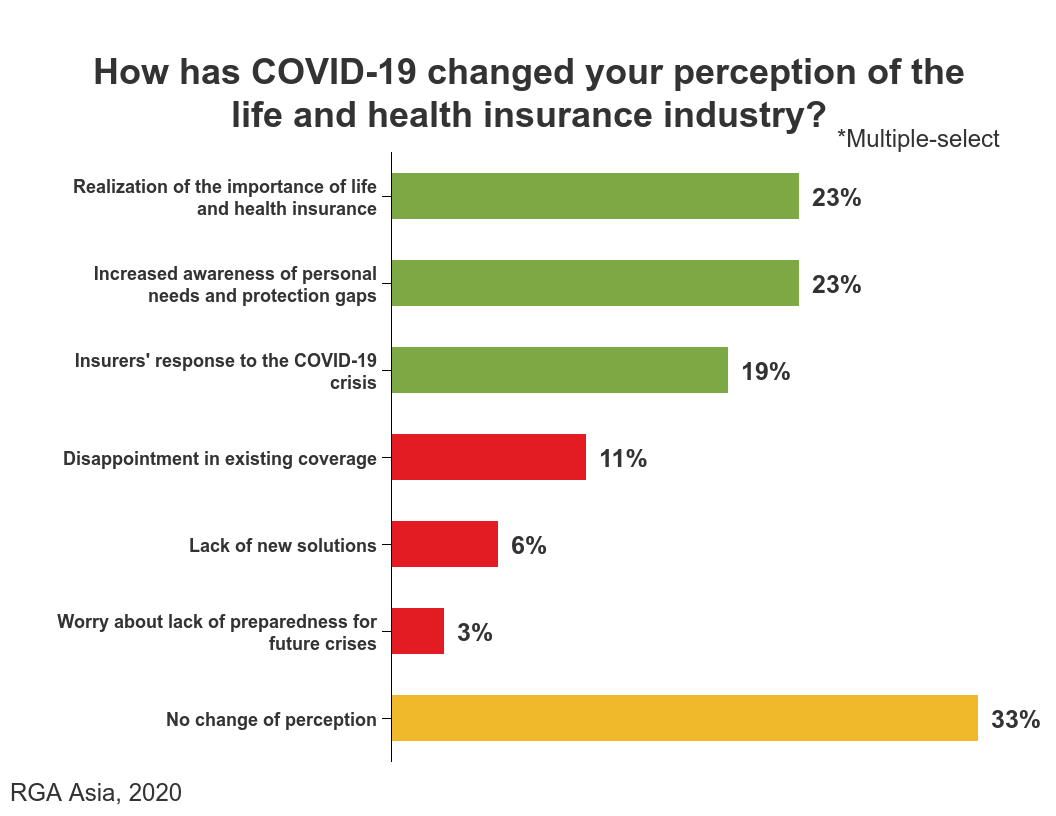 See also: Survey shows consumer perceptions of insurers improving in Asia during pandemic
Consumers Turn to Insurance for Security amid Infection
Negative emotions linked to COVID-19 could be one reason customers are paying more attention to their protection needs. While seeing the increase of confirmed cases day-by-day and waiting for a vaccine or effective treatment, the sense of helplessness and hopelessness elevates stress levels, as well as negative emotions. Consumers know that different actions taken to fight the virus, such as mask wearing, increased hand washing, and social distancing, may minimize the risk of infection, but do not eliminate it.
Research conducted by the University of Hong Kong (HKU) found that 20% and 14% of Hong Kong respondents experienced depression and anxiety symptoms respectively during the pandemic. Looking at the key concerns, according to a survey conducted by market research consultant Kantar Profiles, Hong Kong residents are most worried about the long-term consequences of the disease, namely permanent lung damage and dysfunction (71%) and death due to COVID-19 (61%). Therefore, consumers could be more likely to turn to insurance, seeking financial security in case of infection.
In addition, the survey shows that those aged under 30 were more concerned about death than other age groups, even though COVID-19's mortality rate is lower among younger people. While older segments in Hong Kong have experienced the SARS outbreak in 2003, younger people might have more intense fear towards COVID-19 because it represents their first pandemic experience. Likewise, in the HKU research cited above, those who have not experienced the SARS outbreak were more likely to have depression than those who lived in Hong Kong during that period. Overall, the emotional impact of COVID-19 on younger people seems to be more severe, which might present an opportunity to increase insurance awareness among this traditionally underinsured customer segment.
See also: Has COVID-19 awakened the public's need for life insurance?
Product Flexibility Increases Perceived Value, Helping Consumers Dealing with Financial Constraints
In addition to costing lives, COVID-19 continues to exact a severe financial toll on communities around the world. The Hong Kong market offers a compelling test case of how economic instability could also alter consumer propensity to purchase insurance coverage. Efforts to control the pandemic led to a global recession and contributed to a sustained economic slowdown in Hong Kong: Local unemployment surged to 6.1%, higher than during the global financial crisis in 2008. According to an employer survey by the Hong Kong General Chamber of Commerce, 86% of employers expected a decrease in business turnover due to the pandemic. At the same time, Ipsos's survey found that 61% of employees have either earned less or expected a salary cut this year. Therefore, despite having heightened awareness of insurance needs, people may have a tighter budget for insurance spending in the foreseeable future.
Could the same financial disruption impacting insurance demand also result in increased need for flexibility on terms and pricing? If so, this shift could introduce a new set of complications for carriers, including increased demand for adaptive product designs and online purchasing options.
When asked to identify the most important factors in prompting insurance product purchases, around 70% of respondents indicated that flexible and innovative features play the biggest role in their decision-making process. Consumers are looking for solutions that provide the specific type of protection they truly need, which increases the perceived value. Flexibility to choose benefits, to change coverage when getting older, and to adjust premium payments all factor into this demand for personalization.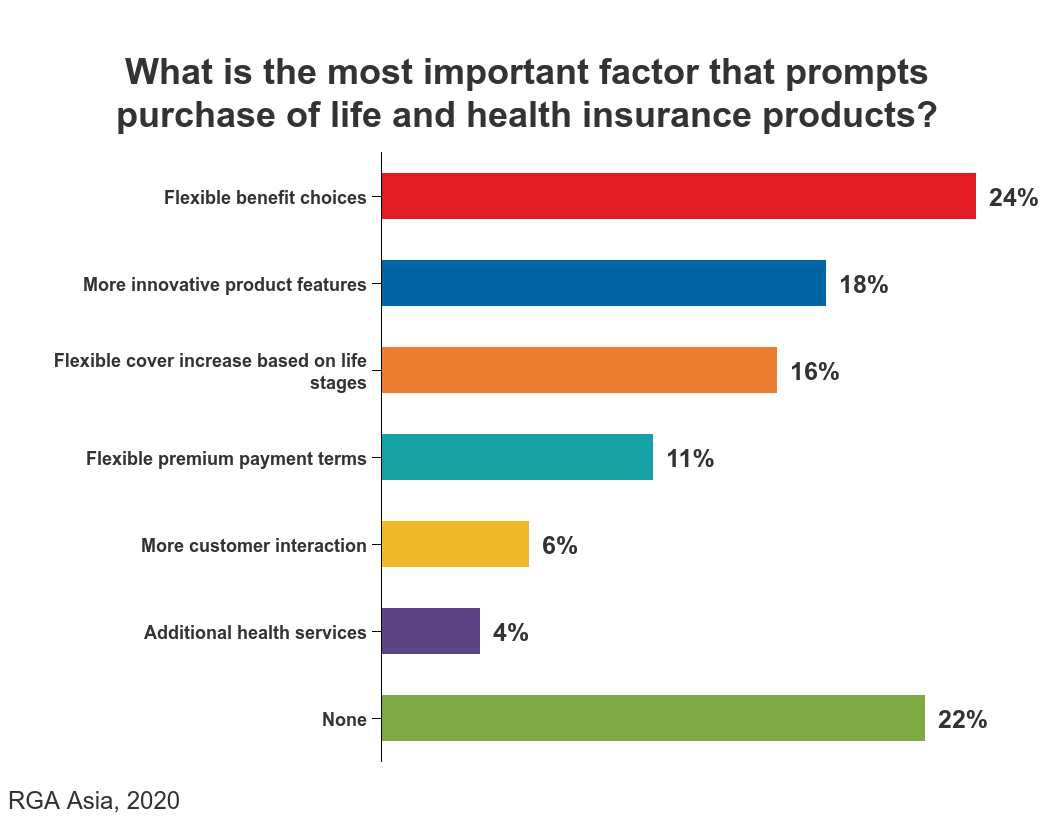 Will Selling at a Distance Work for the Insurance Industry after COVID-19?
Major disruptions such as the pandemic have important consequences for life insurance distribution and product design. As more consumers work from home globally, they also play, learn, and shop more online. RGA research in Hong Kong supports this finding: 60% of consumers were willing to consider buying insurance online amid COVID-19, up markedly from 41% the prior year, and evidence is mounting that online browsing volumes and online sales surged after the outbreak.
And yet, while pandemic-driven pressures and social distancing measures could accelerate demand for online purchasing, the race to digitize may be leaving life insurers at a disadvantage compared to other insurance products. Direct channels, including online, contributed only 3% of total new sales of long-term business since the start of the pandemic.
It is clearly a challenge to close the life insurance sale online. A well-established belief is that life insurance is sold, not bought. When customers buy insurance through face-to-face interaction, agents or brokers elicit customers' emotions and insurance needs, make product recommendations, and help customers complete application forms by reading the questions and answering customers' inquiries. However, in an online setting, customers go through the entire decision-making journey and buy insurance on their own. How can life carriers overcome this engagement gap? Insights from behavioral science can help by improving customer journeys online. The product information on the website must be intuitive to customers, and underwriting questions must be self-explanatory. Best practices include bulleted points and avoiding crowded, tiny text or any unnecessary explanations. We see that simple, user-friendly process enhancements increase consumer propensity to make a purchase.
See also: Behavioral Economics, Disclosure Gaps, and Customer Journeys in Life and Health Insurance
In many ways, opinions from Hong Kong consumers offer a valuable view of a changing global reality. Personal attitudes and priorities, at home and at work, have altered amid social isolation and a slowing economy, and these trends seem likely to continue to present new opportunities and a renewed responsibility to prove the essential and enduring value of life insurance.