Is the heartbeat underrated?
Most underwriting manuals have not yet leveraged the potential predictive power of several features of heart rate. In this article, we take an in-depth look at the most important features, including resting heart rate (RHR), heart rate recovery time after exercise, and heart rate variability. We also review key mortality studies and consider the practical underwriting challenges of using such data for risk assessment.
Resting heart rate: Live fast, die young
While medical textbooks consider a normal RHR to be about 50-90 beats per minute, underwriting guidelines typically allow for a wider range. This is because an RHR taken during a typical medical insurance examination may not represent a true resting rate. It can be affected by a variety of factors such as anxiety, dehydration, caffeine and nicotine. Underwriters, understandably, have shown reluctance to use a single isolated RHR unless it is severely abnormal.
However, with today's greater availability of serial RHR data from wearable devices and electronic health records, underwriters now have much better access to reliable long-term RHR data. Serial readings give underwriters more confidence that the RHR recorded within an attending physician statement is representative of typical measurements for the individual. Access to such data could now make RHR an attractive biometric to help stratify insurance applicant risk.
The underlying physiological mechanism of the relationship between RHR and life expectancy can be explained by several factors, including metabolic rate, autonomic nervous activity and inflammatory processes. For example, Boudoulas et al. (2015) assert that a fast RHR directly affects the cardiovascular system and can result in arterial stiffening.
1
Numerous studies have shown an increased RHR is a reliable predictor of cardiovascular and all-cause mortality. This association is independent of both cardiovascular impairments and risk factors.
Mortality data for resting heart rate
The association between RHR and life expectancy is well established in the medical literature. Here we report on recent studies to illustrate the strength of this association.
Figure 1 is based on data from the UK Biobank for 159,769 healthy males who had a median follow-up period of 5 years.2 The data demonstrate that an increased pulse rate is associated with excess all-cause mortality relative to a benchmark of healthy individuals with pulse rates below 60. The mortality risk is relatively higher at younger ages, making this metric particularly relevant for insurance underwriting. We note a similar trend is present in females as well.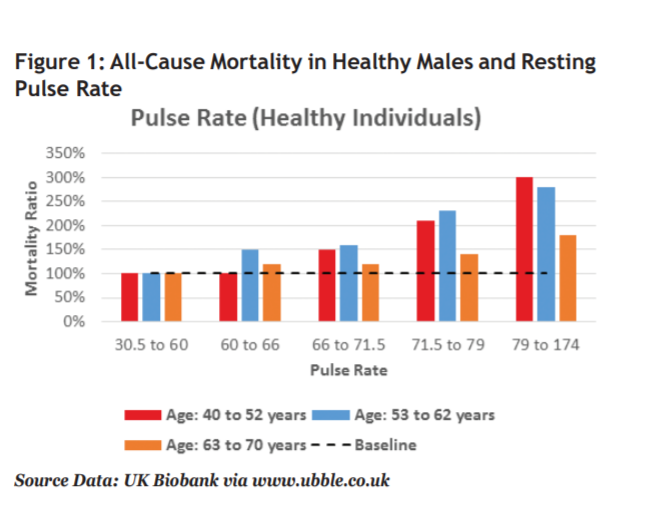 Table 1 provides a summary of studies from the medical literature demonstrating a relationship between RHR and life expectancy.
Table 1: Resting Heart Rate Mortality Data

| | | |
| --- | --- | --- |
| Study | Description | Findings |
| Melbourne Collaborative Cohort Study, Seviiri M et al. (2017)3 | 21,692 participants, 21.9 years follow-up | Hazard ratio (HR) for a 10 beat per minute increase in RHR was 1.13 (95% confidence interval (CI) 1.11- 1.15) for all-cause mortality. |
| Systematic review and meta-analysis, Aune D et al. (2017)4 | 87 studies, 1.8 million total participants | Relative risk reported for a 10 bpm increase in RHR was 1.17 (95% CI 1.14-1.19) for all-cause mortality |
| UK Biobank, Eppinga RN et al. (2016)5 | 265,046 individuals in the UK Biobank, 4.9 years follow-up | Significant association was found between genetic variants associated with RHR and all-cause mortality. Relative increase of 20% in all-cause mortality risk per 5 bpm increase of RHR; reduction in life expectancy for males between 1.9 up to 4.1 years and females 1.8 up to 3.7 years per 5 bpm increase in RHR |
| UK Biobank, UbbLE (UK Longevity Explorer)2 | 159,769 healthy males, 5 years follow-up | Increased pulse rate is associated with an increase in all-cause mortality. This risk tended to be higher at younger ages. (See Figure 1) |
| The Kailuan Study, Wang A et al. (2014)6 | 92,562 participants, 4 years follow-up | Risk of all-cause mortality rose by 18% per 10 bpm increase in RHR; HR 1.18 (95% CI 1.13–1.23) after adjusting for all confounding factors. |
| Framingham Heart Study, Ho JE et al. (2014)7 | 4,058 Framingham participants, 20 years follow-up | Higher RHR was associated with increased all-cause mortality, HR 1.17 (95% CI 1.11 to 1.24) per 11 bpm increase in heart rate, in a multivariable-adjusted model. |
| Copenhagen Male Study, Jensen MT et al. (2013)8 | 2,798 healthy middleaged men, 16 years follow-up | Compared to men with RHR ≤50, those with a RHR >90 had an HR of 3.06 (95% CI 1.97 to 4.75). RHR as a continuous variable: mortality risk increased 16% (10–22) per 10 bpm. |
In the Framingham Heart study, Ho JE et al. (2014) found that RHR captured at a single examination was as strong a predictor of cardiovascular outcomes as was repeated measurements of RHR averaged over 8 years.
7
However, Wang A et al. (2017), the researchers of the Kailuan study, found that elevated long-term RHR variation is associated with increased risk of allcause mortality, suggesting that serial RHR readings may be more predictive than a single measurement.
6
In the Melbourne Collaborative Cohort study, Seviiri M et al. also analyzed how changes in RHR over approximately a decade affects mortality. They found increases in RHR over the long term were associated with higher mortality, particularly if RHR increased by more than 15 bpm. Interestingly, a decrease in RHR was not associated with lower mortality.
3
In summary, these studies provide support for the concept that elevated RHR can predict life expectancy in healthy lives independently of other known risk factors.
Heart rate recovery: Recover fast, die last
Heart rate recovery (HRR) is the speed at which the heart rate decreases after cessation of physical exercise. A rapid recovery time indicates the heart is working efficiently and is able to return quickly to a normal state. Speed of HRR is known to improve with physical fitness and is used by many athletes to monitor changes in their training status.
Although the exact underlying mechanisms are unclear, there is significant evidence to support the idea that a slow HRR is associated with adverse health outcomes.
Read More +