The complex anatomic structure of cerebral arteriovenous malformations (AVMs) can present both physicians and underwriters with many challenges, including correct diagnosis and classification, appropriate risk prognostication, and most important, selection of appropriate treatment. This article clarifies the often confusing nomenclature of cerebral vascular lesions, discusses epidemiology and clinical presentation, and reviews some studies that have significantly altered their treatment paradigms. It also clarifies assessment criteria underwriters can use for risk prognostication and mortality prediction.

Nomenclature of Cerebral Vascular Lesions

Characterizing and risk-classifying cerebral vascular lesions can be quite confusing for underwriters, as radiologists and treating physicians will often use the existing variety of descriptive terms interchangeably and incorrectly. A simplified classification system is presented here in Table 1.

Table 1: Simplified Classification of Cerebral Vascular Lesions

High-Flow Lesions
Cerebral AVM (CAVM)
Dural Arteriovenous Fistula (DAVF) (Can also be low-flow)
Carotid Cavernous Fistula (CCF) (Can also be low-flow)
Low-Flow Lesions
Venous
– Developmental Venous Anomalies (DVA)/Venous Angioma
– Vein of Galen Malformation (Can also be high-flow)
Capillary Telangiectasia
Cavernous Hemangioma
Mixed Vascular Lesion
Modified from Radiopaedia.org (https://radiopaedia.org/articles/cerebral-vascular-malformations)

The first step in both risk assessment and classification is to separate high-flow from low-flow lesions. The classic high-flow lesion is an arteriovenous malformation (AVM), a three-part vascular lesion consisting of: a feeding artery (or arteries); a draining vein (or veins); and a nidus, the actual tangle of vessels between the feeding artery and the draining vein. The capillary system normally functions to gradually reduce the pressure gradient from artery to vein, but an AVM causes blood to bypass the capillary system and brain tissue, generating elevated cerebrovascular pressures.

Cerebral AVMs can be graded using the Spetzler-Martin AVM Grading System1 (Table
2). This system takes into account a lesion's size, the eloquence of adjacent brain tissue (eloquent brain tissue refers to the degree to which that area is responsible for multiple functions), and the amount and type of venous drainage (superficial or deep). Each of these factors have point values, and the sum of the values of these factors results in a grade based upon the sum of the point values, which will be between 1 and 5. A Grade 1 AVM is small and superficial, is located in non-eloquent brain tissue and is considered low-risk for surgery. A Grade 4 or 5 AVM, on the other hand, is large and deep, and adjacent to eloquent brain tissue. (The system uses the term "Grade 6" to refer to an inoperable lesion.)

Although several academic centers have developed treatment protocols corresponding
to each Spetzler-Martin grade, it would be inadvisable for an underwriter to draw any conclusions as to mortality outcomes based on these grades alone, as studies to date have been small, retrospective and, most notably, non-randomized to multiple classes of treatment.

Table 2: Spetzler-Martin AVM Grading System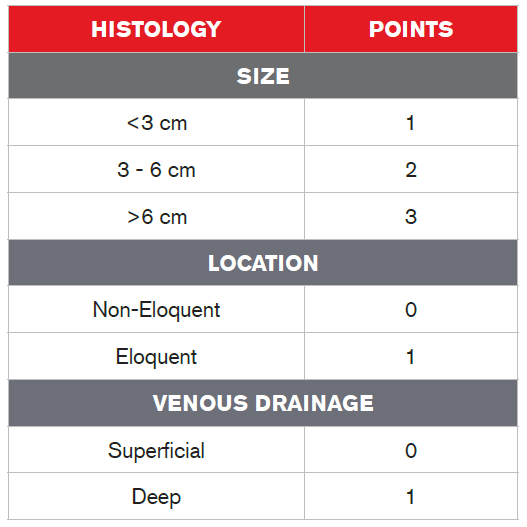 Grade = Total Points

An AVF – arteriovenous fistula – although considered a higher-flow lesion, differs from an AVM in that it presents with a direct connection between a feeding artery and a draining vein and lacks an intervening nidus. The most common location for an AVF occurs between the carotid artery and cavernous sinus, and these lesions are specifically termed carotid-cavernous fistulas (CCF). Another common AVF consists of a direct connection between a meningeal artery and meningeal vein that traverses the dura, and is known as a dural arteriovenous fistula (DAVF).

The most common low-flow lesion is a developmental venous anomaly (DVA). In most classifications schemes, the term DVA has supplanted the older term "venous angioma," although the latter terminology is still frequently encountered in radiology and physician reports. As the name implies, DVAs are considered congenital lesions. They have larger-than-normal collections of veins, but are for the most part small and histologically normal, and thus represent a low overall bleed risk. They can, however, be frequently associated with the cavernous malformation types described below.

For ease of classification, Table 1 lists the vein of Galen malformation as a low-flow lesion, but these can also exist in high-flow, AVM, AVF, aneurysmal, and other forms as well. Vein of Galen malformations are abnormal connections between the cerebral arteries and the vein of Galen (the main draining deep vein of the brain). Although these lesions are rare, they can be significant: large pediatric vein of Galen malformations, for example, can be the cause of high-output cardiac failure in infants or children, as their hearts struggle to maintain the vascular demands of these lesions.
Read More +