It is the responsibility of claims teams to deliver on the company's promise. When a claim is made, the customer will be interested in two key questions:
1) Will I get paid?
The answer is generally yes. In the U.K., an average of 98% of death claims and 91% of Critical Illness (CI) claims are paid.
2) How long will it take?
This is an obvious question but there is little published data or statistics to provide an answer.
RGA UK recently conducted a survey to determine the average time taken to settle claims. The survey looked at the length of time from claim notification until either a payment was made or the decline decision was communicated.
The survey was completed by a wide range of companies, and included some with large established books and some newer entrants. The results represent approximately a quarter of all death claims and a third of all CI claims within the U.K. market. Claims volumes for Terminal Illness (TI) and Total and Permanent Disability (TPD) claims were relatively low, but the results have been included for completeness.
Findings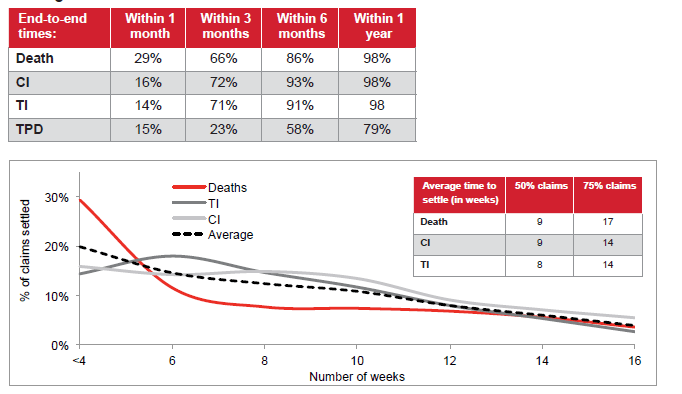 Read More +