Abstract
The Human Immunodeficiency Virus (HIV), and its subsequent disease progression Acquired Immune Deficiency Syndrome (AIDS), have presented significant and unprecedented challenges to the insurance industry. These conditions led to concerns of mounting and unfunded liabilities and essentially changed the way that insurance was underwritten.

Fortunately, with the development of new therapies, individuals with HIV are living much longer lives and the dire predictions for excess mortality losses for insurers did not materialize. For decades, individuals with HIV were considered uninsurable; however, a paradigm shift has recently occurred in the way insurers view HIV, based upon a growing body of evidence demonstrating improving mortality outcomes for infected individuals.

HIV is now transitioning to an insurable condition, but despite treatment success, it remains a complex disease, and designing insurance products with the right inclusion and exclusion criteria is a challenging task. Insurance medical directors and underwriting manual developers will need to follow medical literature closely and amend their guidelines as needed. This article discusses the main risk factors requiring assessment when coverage for individuals with HIV is being considered.
Introduction
HIV has resulted in millions of deaths globally since first reported in 1981. Today, according to the World Health Organization (WHO), 37 million people around the world were living with a diagnosis of HIV at the end of 2014, 25.8 million of whom were located in sub-Saharan Africa (which is also where 70% of all new infections occur)
1
.
With the advent of anti-retroviral therapy (ART) in the mid-1990s, HIV has become a controllable (albeit still chronic) disease. Life expectancies for the HIV-infected, once measured in months or even weeks, are now in the decades for those receiving ART. Indeed, annual death rates for newly infected HIV patients on ART currently approach those of the general population in short-term follow up. In the longer term, epidemiological studies have reported mortality ratios for those with HIV approaching those observed in individuals with other insurable chronic diseases. Morbidity risk for these individuals, however, continues and is yet to be quantified
2
.
As ART is increasingly allowing those living with HIV to remain active members of society – that is, to continue to work, run businesses, have families and purchase homes – they are needing life insurance cover to protect themselves, their families, and their businesses.
More than 10 years ago, insurers in South Africa and Europe began offering life cover to treated HIV-infected individuals on a limited-term basis. More recently, life insurers in the U.S. and Canada have also begun to develop and offer products to cover HIV-positive individuals.
Depending on inclusion and exclusion criteria selected as defining the better risk, offers can be made on a reasonable percentage of HIV positive applicants. Underwriting ratings can be determined by extrapolating data from various medical studies to ensure the additional premium assessed is fair. Due to the relatively high ratings for many of these applicants and the typical limited-term duration of these products, the placement ratio has been low, but is increasing.
Of note, in some countries durations of policies available to HIV-positive individuals have been extended to renewable term and whole of life products. Still, with low numbers of inforce policies covering HIV-positive insured people, credible claims experience is yet to be determined. This data will need to be followed carefully.
Life Expectancy/Mortality

Deaths from HIV have decreased dramatically over the past two-plus decades. Recent articles reviewing research on HIV mortality outcomes show that people are living longer and the majority of deaths occurring among those on treatment are now no longer due to AIDS defining illnesses
3, 4
. These articles, along with the following three studies, can serve as excellent reviews for anyone researching HIV mortality outcomes in the course of developing underwriting guidelines.
The Antiretroviral Therapy Cohort Collaboration (ART-CC) found that between 1996 and 2005, estimated life expectancy at age 20 had increased from 36.1 years to 49.4 years, and the number of those who survived from age 20 to age 44 increased to 85.7% by 2005
5
. The UK Collaborative HIV Cohort (UK CHIC) study of patients (excluding injection drug users) infected with HIV-1 (the most prevalent form of the virus) who started ART in 2000-08 found that on commencement of treatment, estimated life expectancies for these individuals at age 35 were
6
: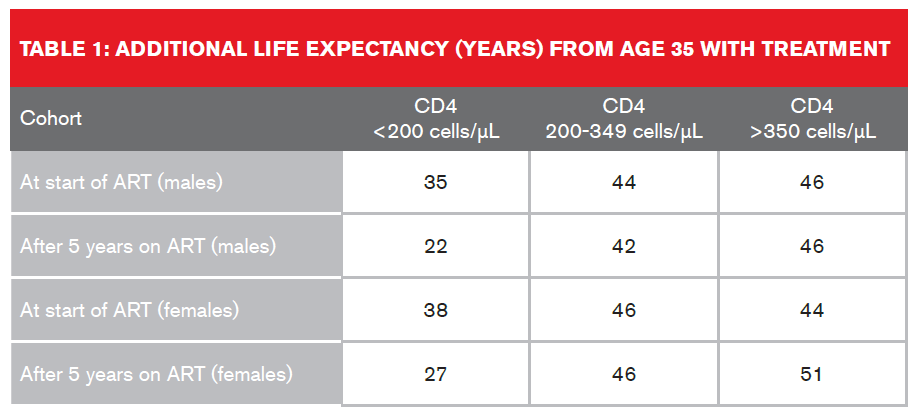 A study which looked at U.S. and Canadian participants in the North American AIDS Cohort Collaboration on Research and Design (NA-ACCORD) on ART between January 2000 and December 2007 found that overall life expectancy estimates increased from 36.1 to 51.4 years from 2000-2002 to 2006-2007
7
. Table 2 (below) provides a breakdown: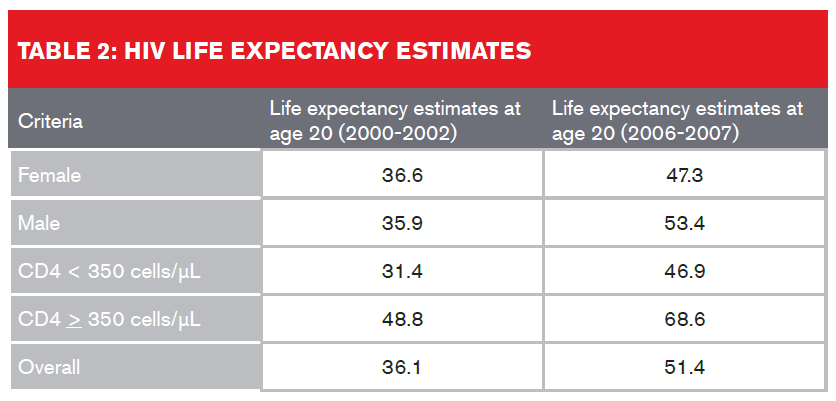 Despite improved life expectancies, HIV-infected individuals still experience a higher rate of non-AIDS-related deaths than the general population. This discrepancy in life expectancies could be attributed either to the active HIV infection or to other underlying factors such as higher rates of alcohol use and smoking, co-infection of hepatitis C, or as a result of cardiovascular, cancer or liver disease. The presence of these comorbidities also needs to be assessed by insurers, regardless of undetectable viral load or high CD4 cell counts.
Read More +