In this
Health Brief
, we look at the growing utilization of bariatric surgery as a means of achieving rapid weight loss, and consider if it should be covered more widely by health insurance.
Many today view the massive worldwide increase in obesity over the past two-plus decades as a pandemic. The 2013 Global Burden of Disease Study from the Institute for Health Metrics and Evaluation found that from 1980 to 2013, worldwide incidence of being overweight or obese rose by 47.1% for children and 27.5% for adults. Additionally, in 2014, the World Health Organization estimated that about 13% of the world's population could be considered obese. The combination of more sedentary jobs and lifestyles and over-consumption of calorie-rich processed foods is leading to ever increasing Body Mass Indices (BMI) as well as to a myriad of related health problems such as heart disease, stroke, Type 2 diabetes, and certain cancers.
At its core, the standard treatment regime for obesity remains diet and exercise; i.e., reducing caloric intake and concurrently increasing energy expenditure. These basics are often combined with associated strategies and health services including dietitian/nutritionist services, counselling and support groups, and occasionally weight-loss drugs.
However, as bariatric surgery advances and becomes more common, it is increasingly being used as a quick-fix treatment for weight-related conditions. This article explores the type of patients who may benefit from bariatric surgery, provides an update on the various surgical techniques and their efficacy, gives guidance around verification of medical necessity of treatment, and comments on claims and underwriting considerations.
What Constitutes Obesity Today?
The currently accepted definition of obesity, as outlined by the World Health Organization (WHO), is "a medical condition in which excess body fat has accumulated to the extent that it may have a negative effect on health." This accumulation is considered to occur due to a combination of excessive food intake, lack of physical activity and genetic susceptibility.
Until the 1990s, serious obesity, at least in the U.S., was defined as weighing at least 45 kilograms (100 lbs) more than the actuarially determined body weight. In 1995, however, the WHO adopted a classification formula based on a ratio of weight to height, the Body Mass Index, as a tool to determine the level of obesity.
The World Health Organization classifies normal, overweight, and obese BMIs in adults as follows: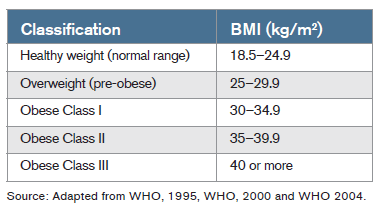 In recent years, additional classifications have been developed in the surgical literature to highlight particularly severe obesity. Those having BMIs of above 50 are considered "super obese."What is considered "obesity" can also differ from country to country. In Japan, for example, obesity starts with a BMI of 25, and in China, with one of 28.
Read More +