As January tradition in westernized societies dictates, people are heading back to work with full bellies and a list of New Year's resolutions to make a fresh start.

The importance of such new beginnings is reflected in cultural traditions around the world – from the Thai Songkran festival to the Jewish Rosh Hashanah. Fresh starts are examples of temporal landmarks – markers that help people organize time into distinct periods, mentally relegating failures to the past and motivating themselves to pursue self-improvement as they move forward.[1]
At the start of a new year, the guilt of overindulgence can often add a little weight to people's plans to turn over a new leaf. The most popular resolutions in the U.K. [2], U.S. [3], and South Africa [4] include exercising more, saving money, eating healthy, and losing weight. People focus resolutions on these virtuous behaviors because they are difficult to shift. These behaviors need an extra nudge because they require a short-term sacrifice – giving up tasty food or getting up on a cold morning to go for a run.
With technology increasingly seen as a solution to help promote healthy behavior, do "fresh start" mindsets turn consumers to well-being apps at the New Year?
Fresh starts in the well-being app market
There are now more than 300,000 health and well-being apps available in the Google and Apple App stores [5], and health insurers are integrating wellness services into product offerings more than ever. However, the success of tech-enabled wellness programs is far from guaranteed – the vast majority (85%) of health apps have fewer than 5,000 downloads, and nearly half of all health app download activity is accounted for by the top 41 apps [5]. App portfolios from insurers are no exception, as they often fail to generate significant reach in terms of download numbers [6]. Additionally, users tend to be loyal to a particular app – 96% report using only one app in the health and fitness category – making it difficult to attract people to a new product [7].
In this challenging environment, New Year's resolutions and fresh starts may offer an opportunity for timely marketing strategies that appeal to potential users. While their health goals are top of mind, people are more open to change, and they would benefit from products compatible with these goals. This is supported by consumer behavior. Downloads [8] and relative search volumes for health and fitness apps are consistently highest during January (Figure 1).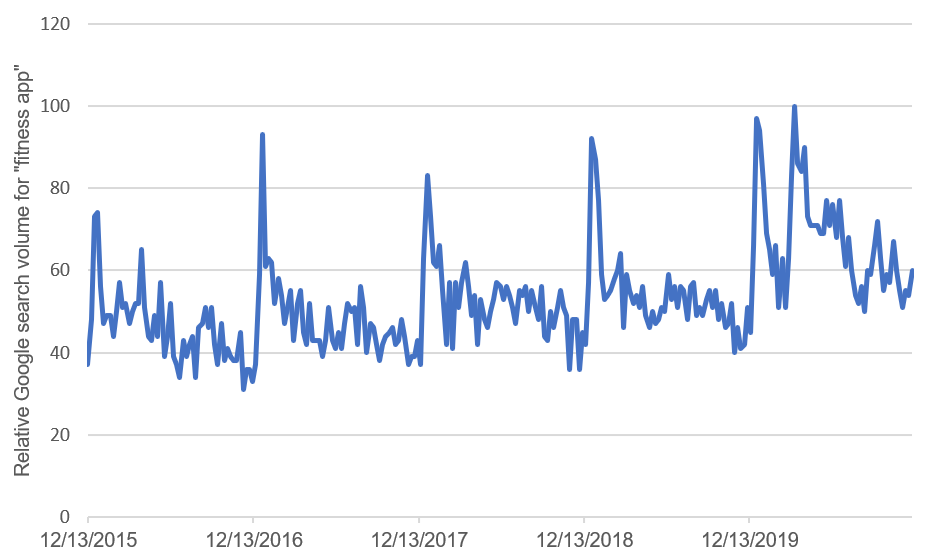 Figure 1: Worldwide relative Google search volume for "fitness app" from December 13, 2015 to December 11, 2020. The data demonstrate drastic peaks in search interest in the new year with a rapid decline in relative volume. In 2020 an additional peak and subsequent decline merged in late March, at the beginning of most COVID-19 lockdowns across the globe.
Communicating for goal alignment
Perhaps what is most clear about the increased attention paid to wellness apps in January is that health goals are context-dependent. While healthy behavior should be perpetually important for all people, this is clearly not the case. The priority order of people's goals wavers from moment to moment. Fresh starts bring health goals back into focus and represent an opportunity for app marketers to communicate health messages. Insurers should also be aware of this timely opportunity and use it to direct customers' heightened attention to the wellness products they offer.
Another consideration: Often people are driven less by long-term goals, such as better health, than by more immediate, hedonistic, and socially relevant goals. This was demonstrated by a U.K. National Health Service alcohol intake reduction campaign that found appealing to people's physical appearance was more engaging than appealing to health goals [9]. Connecting opportune moments such as fresh starts to these more immediate goals could prove particularly effective. This may be borne out in U.S. fitness app data where usage is strong in the months leading up to, and during, summer [7]. It is possible that this reflects consumers' goals to get into shape for the summer holiday season, or that better weather reduces the sacrifice required to go for a jog. Framing communication strategies accordingly and appealing to more immediate goals – in addition to the usual long-term financial security messages – could help boost insurance sales as well..
The COVID-19 pandemic has been its own landmark event for shifting consumers' attention to personal well-being. March and April 2020 were record months for health and fitness app uptake, with an increase of 84% in April in Apple and Google app stores, compared to January which is usually the biggest month for uptake [8]. The greatest increase, 156%, occurred in India – perhaps reflecting the world's largest lockdown, which affected 1.3 billion people from late March to May – followed by the Middle East and North Africa (55% increase) and Asia-Pacific (47% increase). Daily active users also increased from the first to second quarter. Strava, an app using GPS technology to record exercise, saw not only an average of two million registrations per month this year, but also recorded that long-standing users increased their workouts by 13% [10].
It remains to be seen whether these changes will be sustained beyond the pandemic; however, COVID-19 has certainly brought the value of wellness and wellness apps into focus for consumers. Potential factors include: the absence of activities that previously supported health goals, the sudden global focus on health and mortality, increased time to plan for healthy activities, or perhaps even the opportunity for another fresh start.
Health app providers have taken advantage of this heightened attention to pursue timely marketing strategies and draw new health app users to their brands. For example, the meditation and wellness app Headspace granted U.S. healthcare providers free access to Headspace Plus, a premium offering that normally costs $12.99 a month, [11] and Nike temporarily eliminated its subscription fees for its app to help people stay fit while in quarantine [12].
It is clear that for wellness app consumers, context matters. Understanding how their motivations and goals change over time and tailoring communications accordingly will help insurers to drive widespread adoption of app-driven wellness programs within their portfolios.
The best laid plans
While fresh starts are opportunities for people to refocus their health goals, resolutions often fail [2]. This is what behavioral scientists call the intention-behavior gap – the failure to follow plans through to action. This gap exists partly due to a behavioral bias favoring immediate gratification, such as eating a doughnut right now, over larger future rewards, such as avoiding a potential heart attack years from now. This is borne out in the wellness app data as well: Engagement rates often drop quickly following downloading [13] and many apps are never even launched after being downloaded [14].
Can a timely communication strategy defeat the intention-behavior gap and help users maintain ongoing app engagement? The fresh start effect can spur people to evaluate their self-improvement goals at the start of new months or weeks, at birthdays, or at important personal events like getting married [1]. In the same way that app downloads increase in January, fitness app activity also increases at the start of a new week [7]. Appealing to a fresh start mindset throughout the year is an opportunity for insurers to regularly communicate with app users in a way that brings health goals to the surface when people are most receptive and may therefore be important not only for consumer acquisition, but also for ongoing engagement.
The New Year is certainly a good time to begin such engagement. Insurers looking to build successful wellness programs should resolve to seize this opportunity to provide a fresh start and a nudge to help consumers put their health plans into action.


---
References
1. The fresh start effect: Temporal landmarks motivate aspirational behaviour. Dai, H, Milkman, K, L and Riis, J. 2014, Management Science Articles in Advance, pp. 1-20.
2. YouGov. Quarter of Brits will make a New Year's resolution. YouGov. [Online] December 31, 2019. [Cited: December 11, 2020.] https://yougov.co.uk/topics/lifestyle/articles-reports/2019/12/31/quarter-brits-will-make-new-years-resolution.
3. —. Exercising more and saving money are the most popular 2020 New Year's Resolutions. YouGov. [Online] January 2, 2020. [Cited: December 11, 2020.] https://today.yougov.com/topics/lifestyle/articles-reports/2020/01/02/new-years-resolutions-2020-health-finance.
4. Business Tech. Here the most popular goals South Africans have set for 2020. Businesstech. [Online] January 18, 2020. [Cited: December 11, 2020.] https://businesstech.co.za/news/business/366656/here-the-most-popular-goals-south-africans-have-set-for-2020/.
5. IQVIA Institute. The growing value of digital health. s.l. : IQVIA, 2017.
6. Jahns, Ralf-Gordon. Why Health Insurance companies fail to generate significant reach with their app portfolio. Research 2 Guidance. [Online] Research 2 Guidance, 2015. [Cited: 12 18, 2020.] https://research2guidance.com/why-health-insurance-companies-fail-to-generate-significant-reach-with-their-app-portfolio/.
7. Flurry. Health & Fitness App Users Are Going the Distance with Record-High Engagement. Flurry.com. [Online] 09 07, 2017. https://www.flurry.com/blog/health-fitness-app-users-are-going-the-distance/.
8. Sensor Tower.com. Health & Fitness App Adoption Up Record 47% So Far in Q2 2020. SensorTower.com. [Online] June 04, 2020. [Cited: December 11, 2020.] https://sensortower.com/blog/health-and-fitness-app-record-download-growth.
9. A randomised trial of the effect of appearance. Sallis, A, et al. 8, s.l. : Psychology and health, 2019, Vol. 34.
10. Criddle, Cristina. Coronavirus creates boom in digital fitness. BBC News Tech. [Online] BBC, 12 16, 2020. [Cited: 12 18, 2020.] https://www.bbc.co.uk/news/technology-55318822#:~:text=Fitness%20apps%20have%20seen%20a,app%20for%20the%20first%20time.
11. Forbes. Meditation Apps Like Headspace Are Offering Free Subscriptions To Healthcare Workers Amid Coronavirus Pandemic. Forbes.com. [Online] April 7, 2020. [Cited: December 11, 2020.] https://www.forbes.com/sites/ruthumoh/2020/04/07/meditation-apps-like-headspace-are-offering-free-subscriptions-to-healthcare-workers-amid-coronavirus-pandemic/?sh=5fe4e7472279.
12. Marketing Dive. Nike runs with 'Play inside, play for the world' slogan amid COVID-19 pandemic. marketingdive.com. [Online] March 24, 2020. [Cited: December 11, 2020.] https://www.marketingdive.com/news/nike-runs-with-play-inside-play-for-the-world-slogan-amid-covid-19-pande/574757/.
13. Exclusively Digital Health Interventions Targeting Diet, Physical Activity, and Weight Gain in Pregnant Women: Systematic Review and Meta-Analysis. Rhodes, A, et al. 8, s.l. : JMIR Mhealth Uhealth, 2020, Vol. 10.
14. Uptake of a Consumer-Focused mHealth Application for the Assessment and Prevention of Heart Disease: The <30 Days Study. Goyal, Shivani, et al. 1, s.l. : JMIR mHealth uHealth, 2016, Vol. 4.