Introduction
Prescription opioid abuse is increasing at an alarming rate in the U.S. as is the incidence of fatal overdose. The issue has captured the attention of the medical literature as well as the lay press and poses a legitimate concern for those involved in life underwriting. In this article we will define the scope of the problem, provide a rational approach to underwriting and explore the resources available to aid in risk classification focusing on prescription database information.
Scope of the problem

The number of prescriptions written for opioid pain relievers (OPR) has increased significantly in recent years. Commensurately, the numbers of emergency department (ED) visits and deaths related to OPR have also increased. Sales of OPR in 2010 were four times what they were in 1999. By weight this amounted to 710 mg for every man, woman and child in the U.S. This amount could provide a typical dose of 5 mg of hydrocodone every 4 hours to every adult in the U.S. for an entire month.
1
1.2 million ED visits in 2009 were for prescription drug problems, many of which were for OPR, which was double the rate in 2004. 4.8% of Americans age 12 or greater have used OPR non-medically.
2
In a report of California Workers Compensation claims, 3% of physicians accounted for 62% of OPR prescriptions.
3
Neonatal abstinence syndrome, a postnatal drug withdrawal syndrome caused by maternal opiate use, has almost tripled in incidence from 2000 to 2009 as measured by cases per hospital births per year.
4
Deaths related to OPR totaled 14,800 in 2008 and this number has quadrupled since 1999 and now exceeds the number of deaths related to heroin and cocaine combined.
1
Figure 1 illustrates these points.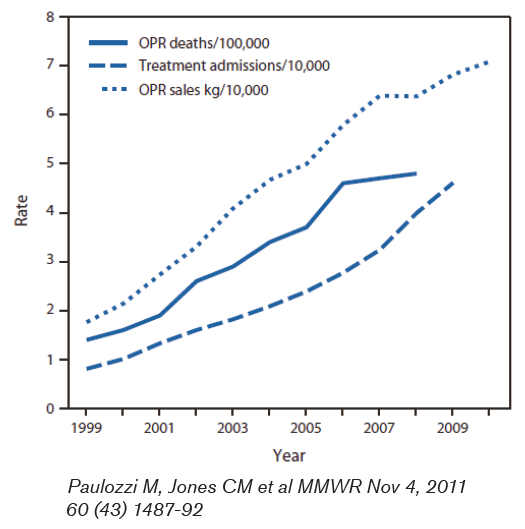 Commonly prescribed OPRs are listed in table 1 below.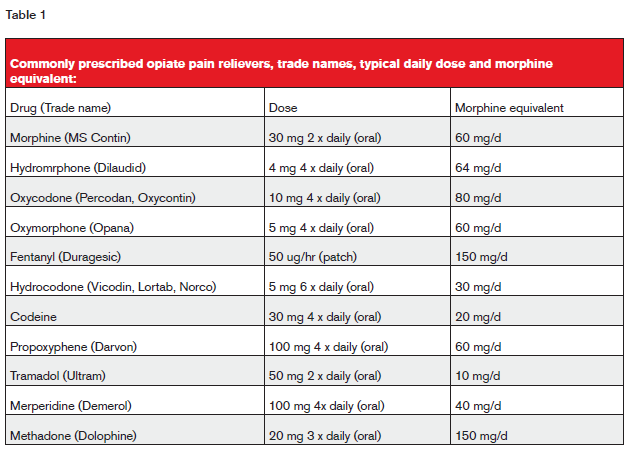 Read More +