The Globalization of Infectious Diseases

In 1999, a virus foreign to North America by the name of West Nile arrived in New York City and then spread across the continent. Four years later, a previously unknown virus of bats, now infamously known as "SARS", infected humans in China and then spread to more than two dozen countries, killing 10% of the eight thousand people worldwide that became infected. In 2009, a pandemic strain of the influenza virus known as "H1N1" emerged in Mexico, and then spread to every country in the world in just six weeks. And in the past year, a virus called chikungunya, normally found in Africa and Asia, hit the island of St. Martin, after which it rapidly spread across the Caribbean, and now threatens areas of the continental United States. Today, the largest outbreak of Ebola ever recorded continues to spread widely within three West African countries, recently reaching the large urban centers of Conakry, Freetown and Monrovia.

So why are all these outbreaks happening? Is there just more news of infectious disease outbreaks today, or are they actually increasing in frequency? Confronting these questions requires a look at factors that drive the emergence and international spread of infectious diseases.

Today, a number of global phenomena, from human population growth, to climate change, to surging international air travel, are converging. Foremost, the world's population is expanding at a rapid pace. With over seven billion people in the world today – half of whom live in densely populated cities – there are simply more opportunities for humans to become infected with dangerous microbes. Consequent to population growth is the growing demand for food. Unfortunately, about threequarters of all new infectious diseases observed in humans have their origins in animals – from SARS, to "bird" flu and even HIV. People tend to become infected with animal pathogens during the production or consumption of livestock or as wildlife ecosystems are disrupted. Furthermore, humans can acquire drug-resistant variants of animal microbes when livestock are fed antibiotics.

While climate change is known to the insurance industry for its impact on the property and casualty market, it sometimes may not be considered in terms of its effect on infectious diseases. Yet many insects from ticks to mosquitoes that can transmit infectious diseases like Lyme or dengue are increasingly able to survive and thrive in areas of the world where the climate is now suitable. In addition to outbreaks resulting from naturally occurring phenomena, the potential exists for microbes manufactured in laboratories to accidentally escape, or more nefariously, for groups to deliberately release biological agents (e.g., as occurred when weaponized anthrax was dispersed via the U.S. postal system in 2001). And with more than three billion trips on commercial flights worldwide every year, humans are increasingly becoming vectors for the spread of infectious diseases by inadvertently transporting dangerous microbes from one region of the globe to another.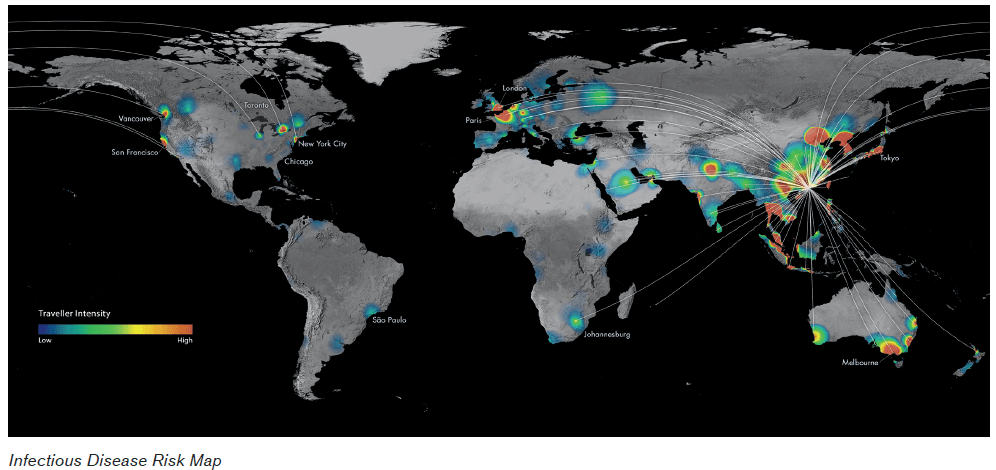 Read More +