Sudden cardiac death (SCD) is the most common cause of death in Western countries.11

The incidence of sudden death in the general population in Europe is 1.34:100,000 for the ages 7 - 64, with 5 - 8% of those showing no evidence of any structural cardiac abnormality or evidence of any coronary disease at autopsy.1,2

Unexpected sudden cardiac death may occur at any age and results from the development of a malignant aberrant rhythm – ventricular tachycardia (VT) or ventricular fibrillation (VF) – occurring either on a background of structural heart disease, including coronary artery disease, or in a heart that at autopsy is deemed to be structurally normal.

Sudden cardiac death may be aborted if an arrhythmia is very brief and self-terminating but death may otherwise be inevitable in the absence of emergency resuscitation. Sudden cardiac death underlies about 20% of total mortality and 50% of cardiovascular mortality in Western countries. It is the most frequent mode of death during exercise, with 75% of deaths during exercise being cardiac-related.

Heart disease is the most common cause of sudden death in young athletes where physiological demands, coupled with an occult cardiac condition, poses an inherent mortality risk which is greater than in age-matched sedentary individuals.

Coronary artery disease and non-coronary structural heart disease are the most common causes of sudden cardiac arrest. Those structural conditions responsible for sudden arrhythmic death include myocardial infarction and ischemia, valvular heart disease, congenital heart disease and cardiomyopathy.

Ischemic heart disease is the most common structural heart condition responsible for sudden cardiac death in older age groups, while in young people aged <35 heritable hypertrophic cardiomyopathy and other congenital / heritable structural cardiac abnormalities predominate.

Cardiomyopathy may be congenital / heritable or acquired and includes hypertrophic cardiomyopathy, ischemic cardiomyopathy, arrhythmogenic right ventricular cardiomyopathy and dilated cardiomyopathy.

Inborn errors thus have the most impact on SCD in the young while acquired factors dominate risk in older subjects.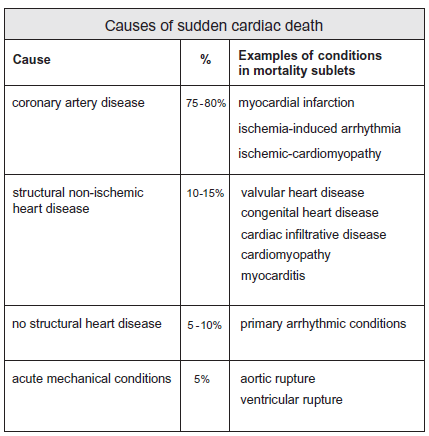 Read More +