Around 800,000 people commit suicide every year1 – one person every 40 seconds. Suicide has a profound impact on family and friends that are left behind following the unexpected death of a loved one.
so
From a financial point of view, the cost of suicide to society is significant in terms of lost productivity and income, and the life insurance industry annually pays out millions for suicide claims.
When considering suicide population, rates results can vary quite noticeably by country, gender and age. What is clear, though, is that it remains a significant contributor to cause of death with an annually increasing trend in many countries. In this article we focus on three countries only – the United States, the United Kingdom and Australia.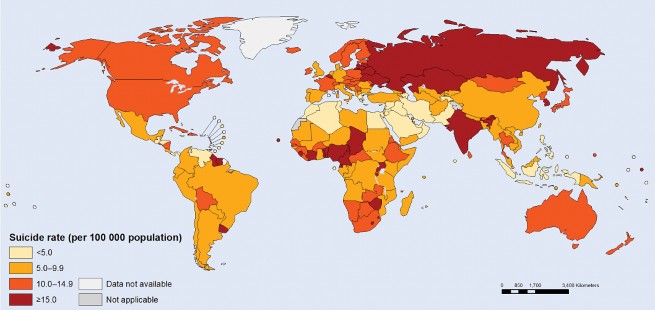 Source: World Health Organization
United States

In 2017 the National Center for Health Statistics published a report with a special feature on Mortality in which it is evident that suicides, together with unintentional injuries, are among the top 10 causes of death for both males and females across most age groups.2 Unintentional injuries include accidental drug overdose and the opioid crisis, which has been well defined and discussed in previous articles.3 The relevance of this is to consider that suicide rates may be under-reported in view of some of the classifications of causes and manner of death.
Focusing on a subset of the general population that will closely reflect the insured population (age groups 25-44 and 45-64), the following key results should be noted:

United Kingdom
Data from the Office for National Statistics (ONS) shows a different picture to the annually increasing trend described for the US. In the UK, following an upward trajectory in 2009 – 2010, suicide rates have been decreasing since the end of 2014. However, suicide remains a top cause of death in some age groups, and according to the 2018 Samaritans' Suicide Statistics Report every day in Britain 17 people die of suicide.4





Read More +