Testosterone testing is on the rise in the U.S. and United Kingdom.1 Some of this rise is probably related to the increasing awareness of the symptoms of testosterone deficiency (TD) among males. These symptoms include fatigue, decreasing libido, depression, sleep disturbances, deceasing strength and possibly cognitive changes. Informal surveys suggest that these symptoms are very common as men age.2 'Direct-to-consumer' advertising on television and other forms of media suggests that the detection and treatment of TD may restore masculine vitality to those men with symptoms of 'low T'. Furthermore, specialty male hormone clinics cater to this 'need'.

The symptoms of TD are very common in men, although many men with these same symptoms do not have TD. The actual incidence of low testosterone (levels < 300 ng/dL) in men above the age of 45 has been estimated to approach 40% of the population in a primary care setting.3 The incidence of TD is even higher in those who are obese and have Type 2 diabetes. It is important to consider the mortality implications of abnormal serum testosterone levels and the possible impact of exogenous testosterone therapy.

Testosterone is an anabolic hormone naturally produced in the testicles. It is responsible for the maintenance of muscle mass, plays a role in the production of red blood cells, and is necessary for the development of male sexual characteristics. It reduces fat mass and improves insulin sensitivity. In addition to the symptoms of TD noted in the previous paragraph, TD may cause a reduction in muscle mass (sarcopenia), increase body fat, decrease serum HDL cholesterol, decrease in hemoglobin, and lead to osteoporosis, and erectile dysfunction.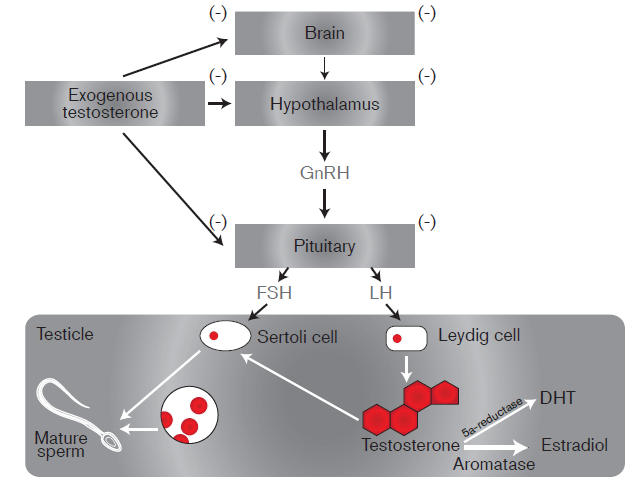 The level of testosterone normally varies throughout the day, with a peak reached at approximately 8 a.m. As men age, not only do the basal levels of testosterone gradually diminish, but the morning peak also gradually disappears. This decline is estimated to be as much as 2% per year.4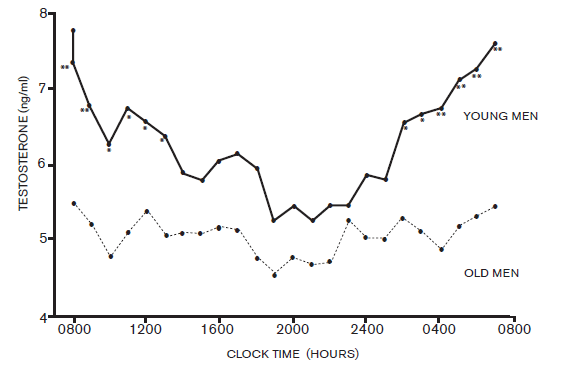 Read More +