Aging populations and growing demands for digital insurance sales create a need to expand insurance rating factors beyond traditional underwriting criteria.
This article explores the value of several additional criteria, including consideration of frailty in older aged applications, the importance of sleep as well as the impact of personality on mortality expectations. The frailty index (FI) holds a robust and consistent correlation with mortality and morbidity and has been shown to be a strong predictor of mortality.
Inadequate sleep has been correlated with increased frailty as well as early mortality. Both short and long sleep duration are associated with greater incidence of obesity, diabetes, coronary heart disease, raised blood pressure and mental health disorders, leading to a risk of early all-cause and cause-specific mortality. Personality may influence morbidity and incidence of cancer through poor health behaviours. Adopting alternative non-traditional mortality and morbidity indicators into the risk assessment process can help more accurately define the underwriting terms offered.
Frailty
There's no denying it: We're all getting older. In fact, World Health Organization (WHO) data tells us that by 2050, there will be 2 billion people aged 60 and over, representing 22% of the world's population. As the world population ages, frailty will become an important predictor of disability and diminished quality of life.
Figure 1: Population ages 65 and above (% of total) by country1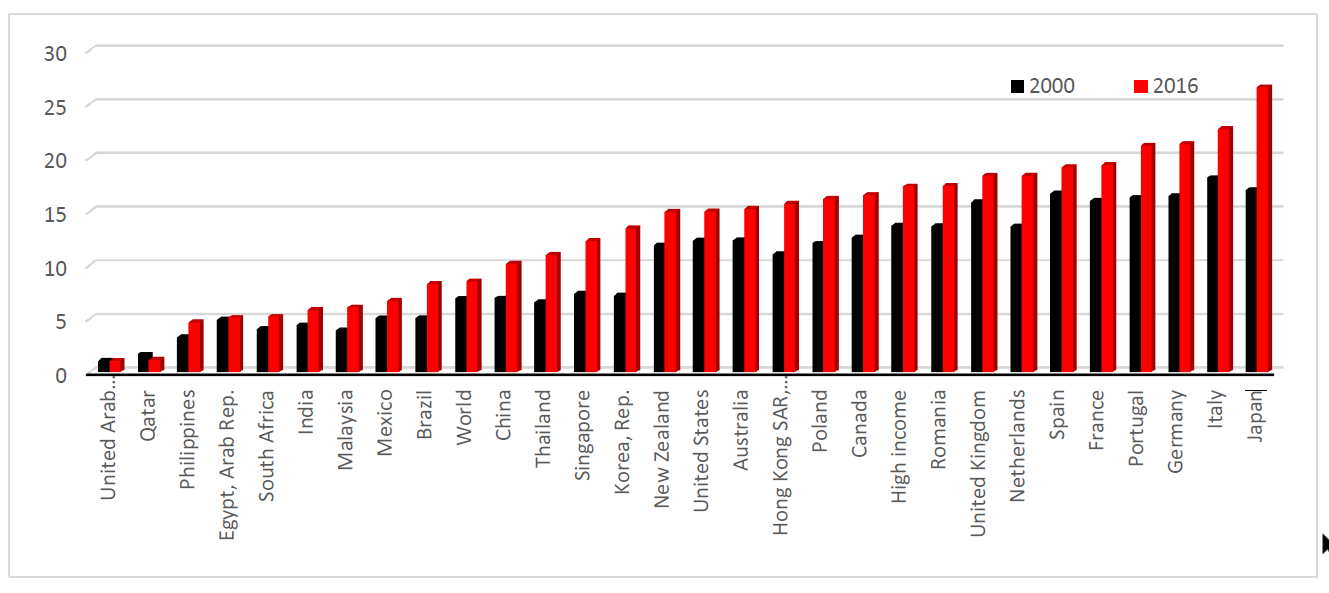 For over a hundred years, the life insurance industry has been using blood pressure measurements in the risk assessment process. The HIV test was introduced in the late 1980s, and, more recently, prohibitions or moratoriums on using results from existing genetic tests results were introduced when policies are below certain limits. These are all clinical measures of health and well-being. Because insurance companies want to underwrite faster, smarter and more cost-effectively, there is growing interest in non-traditional risk assessment methods and predictive analytics.
Frailty itself can be a significant indicator of mortality, but it is usually overlooked in favor of traditional underwriting assessment methods. It is an age-related syndrome of functional decline leading to increased loss of independence and mortality. Frequently, it is assessed using the Fried Frailty Phenotype or the Rockwood Frailty Index. The Fried Frailty Phenotype treats frailty as a syndrome, with loss of physical function, using the classifications non-frail (robust), pre-frail and frail. Elderly people with one or two components are considered pre-frail, while those with three or more phenotypes are considered frail.
2
The Rockwood Frailty Index sees frailty as a continuous risk and assesses the individual by noting the number of health deficits from a predefined list.
Here's how a frailty index, such as the Fried Frailty Phenotype or the Rockwood Frailty Index, works. The index measures a range of age-related health deficits at a particular point in time. The number of health deficits is then tallied and divided by the total number of possible deficits, resulting in a percentage between 0 and 100%, where 100 relates to having all the deficits listed and 0 is having none of them.3
Social environment, personality traits, sleep quality and level of social activity are all significant factors in the health of older people. In addition, geographic region is another predictor of frailty. Studies examining rates of frailty and pre-frailty in low-, middle- and high income countries have shown large variations in prevalence, with rates of frailty being higher in upper-middle-income countries than high-income countries.

One of the key factors in pricing is age at policy inception. Mortality tables tell us that a 60-year-old should pay a higher premium for cover than someone half that age. Yet several studies have shown that the frailty index is a stronger predictor of mortality than chronological age. Frailty status may be a promising risk factor to add into the underwriting mix, particularly for disability products.
Some of the causes of frailty can be reversed through physical and psychological interventions as well as by creating awareness about the importance of healthy ageing. It has been shown in multiple studies and meta-analyses that regular participation in social activities leads to improved mortality in the elderly. Some studies have even shown that spending time with friends increases longevity over spending time with a spouse.
Read More +