Introduction
Each year, 36 million people worldwide die from noncommunicable diseases. These ailments, such as cardiovascular diseases, certain cancers, chronic respiratory disorders and diabetes, account for 63% of deaths worldwide and are largely the result of lifestyle choices. The World Health Organization attributes nearly all of these premature deaths to smoking, unhealthy diet, physical inactivity and harmful use of alcohol.
[1]
According to Dr. Ralph Keeney of Duke University, "The leading cause of death is personal decision making…. Making better personal decisions could potentially prevent millions of premature deaths per decade."
[2]
The "Quantified Self" movement encourages individuals to take a greater interest in their wellness through utilization of fitness apps and activity monitors. [3] Wearable technology and medical devices are becoming more common, and their capabilities are expanding beyond tracking a person's movement to include heart rate and sleep monitoring. Technological advancements now allow personal devices to continuously monitor multiple health-related functions.
Wearable devices are often used to verify physical activity as part of incentivized wellness programs being developed in markets worldwide. As the technology improves, wearable devices will play a role in insurance program offerings and may potentially assist in point-of-sale underwriting.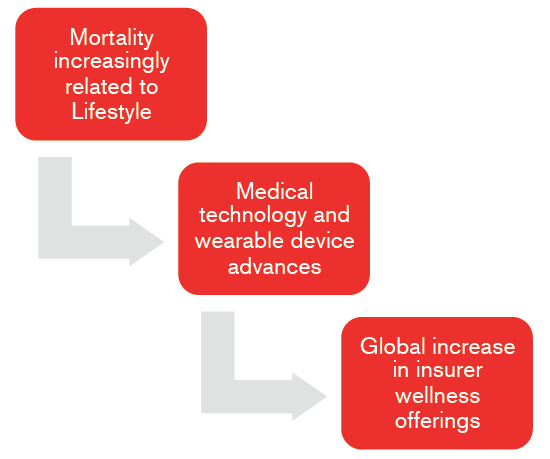 Read More +