Adding capabilities and capital to support clients in reaching their goals.
How does RGA perform acquisitions?
RGA works with clients to help achieve three types of opportunities:
Total divestiture of an entity.

Reinsurance with transfer of direct policy administration.

Block reinsurance: coinsure (a portion of an) in-force block through an

Asset-Intensive transaction

.
RGA's Global Financial Solutions Acquisitions team supports our clients in the acquisition and / or disposition of business by assisting with diligence, co-investing, reinsuring the whole or aspects of the risks to facilitate transactions (including assuming responsibility for direct policy administration), and providing cash and regulatory financing.
How can RGA's Acquisitions team help my company?

Conducting acquisitions well requires deep expertise and experience. RGA's team draws on a long history of successful acquisitions.
Explore our timeline to review our decades-long history of successful deals.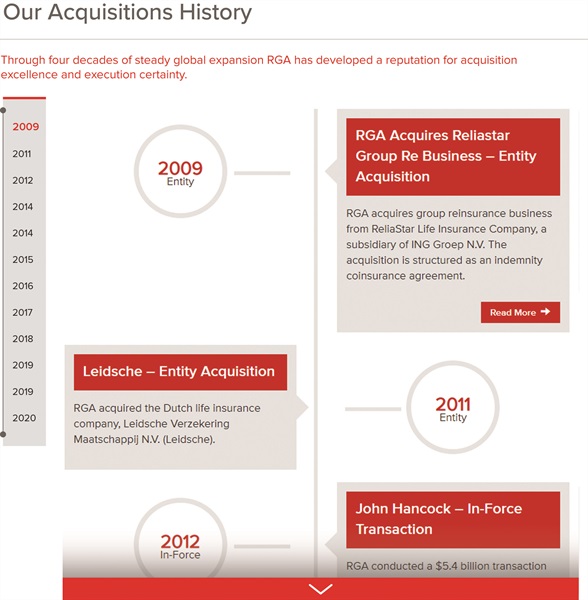 Additionally, Direct Policy Administration (DPA) can be complex and resource intensive. RGA will work with you to review your DPA needs, and determine this best solution utilizing our team with 100+ years of combined experience.
Why RGA?

Most transactions are long-tailed, and so are RGA's partnerships with counterparties. RGA delivers a long record of execution certainty, from demonstrating commitment as a buyer to arranging financing contingencies and regulatory approvals to delivering sufficient capital and capacity to complete a transaction. We are able to tailor each solution to meet the client's unique objective. We are able to structure reinsurance, stock purchase, and swap solutions as well as partnership approaches. We demonstrate:
Strong ability to assume operational as well as financial risks, including:
The assumption of legacy systems and DPA ability

Experience working with third party administrators to reduce operating expenses
Decades of actuarial and management experience that can:
Reduce the risk of last-minute surprises

Empower counterparties to better navigate regulatory and tax issues in North America

More seamlessly integrate blocks of business
It is imperative to choose a well-regarded counterparty among relevant regulators or there is a risk that the transaction is not approved. RGA offers real value and competitive pricing, as well as other tangible benefits:
Residual liability (e.g., IBNR)

Ongoing obligations (e.g., direct policy administration)

Counterparty exposure (e.g., financial strength, collateral, credit for reinsurance)

Ease of execution / transition

Ongoing relationship with the buyer