Longevity and Pension Risk Transfer
---
Reduce your exposure to longevity risk associated with life annuities and pension obligations.
Assessing future life expectancy and predicting long-term asset returns can be challenging. RGA is equipped with both the technical expertise and financial security to manage pension risks for as long as policyholders survive.
The evaluation and management of longevity risk, in particular, requires in-depth expertise. Rising life expectancy is a risk, which may:
Be more difficult to diversify than asset performance.

Slowly and irreversibly erode future earnings.

Transform the balance sheet amid medical advances and lifestyle changes.
How Is Changing Life Expectancy Affecting Projected Lifetime Annuity Cash Flows?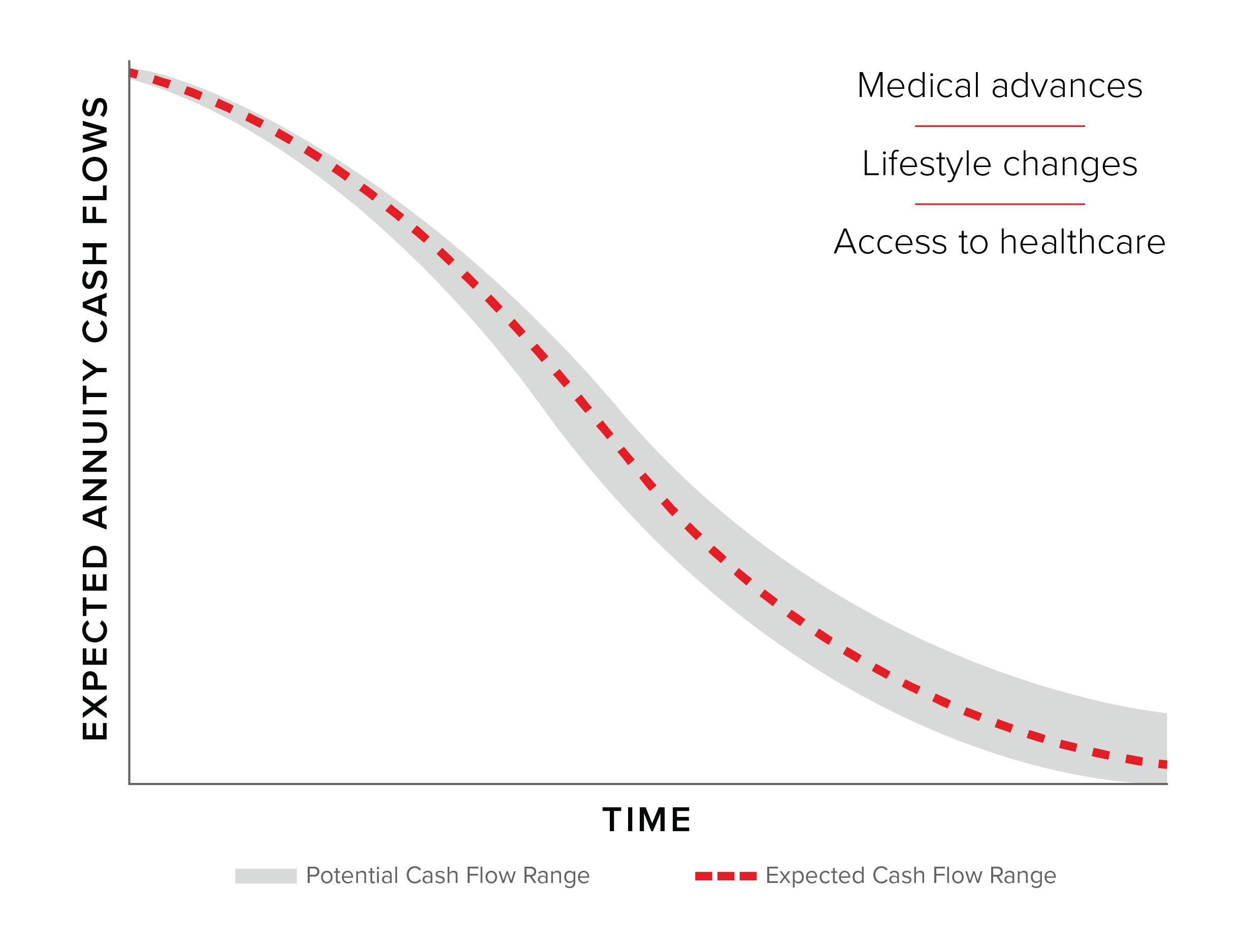 Longevity risk transfer has become widely used by both pension plans and insurance companies in various markets. In addition to institutional Pension Risk Transfer (PRT), longevity risk is a key component of any product offering that guarantees some form of lifetime income to an individual.
How Can Longevity Risk Transfer Help My Organization?
RGA has a long track record of crafting tailored solutions for partners' unique needs.


New Business Support

In-Force Management

Pension Plan Longevity De-risking
New Business Support
Solutions for New Business
RGA supports insurance carriers' new business ambitions by enhancing their capacity to pursue more and/or bigger projects and diversify risk exposures. RGA, as a partner, offers pricing technology and risk management expertise. The solutions developed meet a combination of capital management, new business production, and risk transfer needs.
In-Force Management
Insurance portfolios with embedded longevity risk take decades to run off and can consume a significant proportion of an insurer's risk and/or capital budget. Reinsurance solutions enable RGA's partners to exit business lines, rebalance desired risk profiles, and recycle capacity into different or new ventures.
Pension Plan Longevity De-risking
Solutions for Longevity De-Risking
While a buy-out and full termination may be the end goal of any pension plan's exit strategy, there are several intermediate options available to plans that wish to take steps in their de-risking process. Longevity risk transfer is a popular choice to offload an otherwise non-hedgeable risk, stabilize liability profiles, and simplify investment strategies. Unlike a plan termination, RGA's longevity de-risking solutions do not require fully funded status.
Why RGA?
RGA aims to be your organization's partner of choice and longevity expert. Through our significant global mortality business, we have access to insights and risk diversification that translate into benefits for our clients. We are a market leader in addressing longevity and pension risk transfer needs, from transacting with traditional insurance companies, banks, and pension plans to reinsuring both standard and medically underwritten business globally.
RGA executed its first longevity reinsurance transaction in 2008 in the United Kingdom. Since then, RGA's Global Financial Solutions team has expanded its longevity risk transfer solutions set for clients in the U.S, Canada, the Netherlands, France, Ireland, and Spain.
In Canada, RGA executed the first in-force longevity transaction in 2010 and the first longevity transaction including an underlying pension plan in 2015. Drawing on the extensive knowledge gained from other markets, RGA supported the U.S. Pension Risk Transfer market by executing the first longevity transaction in the U.S. in 2018.

RGA is a pioneer in creating innovative and highly tailored solutions to support longevity, asset-intensive longevity (see Asset-Intensive Solutions ), and tail-risk transactions (see Capital Solutions ).