Asia Pacific
May 5, 2016, 13:08 PM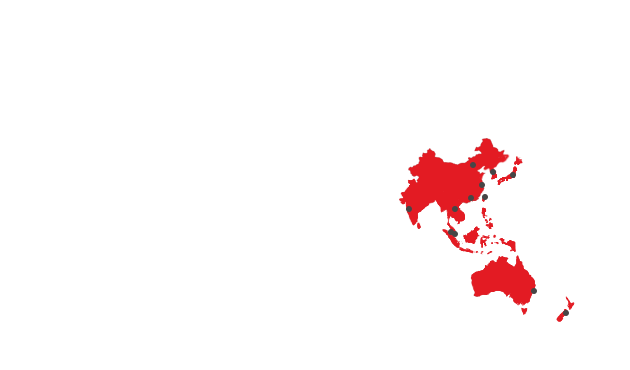 RGA's Asia Pacific operating segment serves markets throughout Asia, with offices in Australia, New Zealand, Japan, Hong Kong, Taiwan, South Korea, Malaysia, China, India and Singapore.

Reinsurance products offered by RGA in the Asia Pacific region include individual and group life reinsurance, living benefits (critical illness, disability income, longevity, health and long-term care) reinsurance, retakaful, superannuation, annuity reinsurance, and financial reinsurance.
Asia Pacific Regional Headquarters
RGA Reinsurance Company
29th Floor Dorset House
Taikoo Place
979 King's Road
Hong Kong
T 852.2511.8688
To compete in Asia Pacific's dynamic insurance environment, innovative product development is crucial. Direct writers must offer protection and savings products with enhanced consumer benefits. RGA Asia Pacific's underwriting, actuarial, and claims experts partner with insurers to deliver on three levels:
Locally, we respond to market opportunities and work with clients to create new products and processes.

Regionally, we leverage knowledge and best practices gained through our deep experience to introduce proven solutions, often improving upon existing models.

Globally, RGA works with clients to develop new automation technologies, distribution channels, predictive modeling tools, and other solutions.



Specialized services, including "Underwriting as a Business" initiatives, incorporate RGA underwriting expertise into product development and other insurance solutions.

The RGA Advantage program (utilizes AURA NEXT, a decision-management platform powered by RGA's underwriting and analytics expertise, and RGA's facultative expertise to help insurers reduce costs and mitigate risk exposure)..

Annual Underwriting and Claims Seminar, regional training sessions and seminars

Experience studies, VOC (Voice of the Channel) research and process, and underwriting reviews
For the 11th consecutive year, RGA was ranked #1 on NMG Consulting's 2021 Global All Respondent Business Capability Index (BCI), based on feedback from insurance companies worldwide. RGA has earned this recognition every year since the inception of NMG Consulting's Global Life & Health Reinsurance Study.
Asia Pacific
May 5, 2016, 13:08 PM