EMEA
Jun 2, 2016, 11:07 AM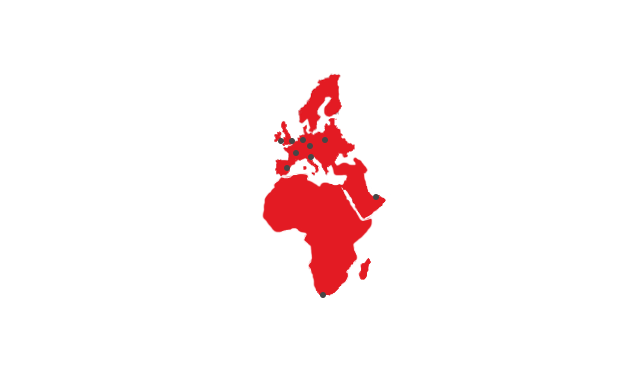 RGA's Europe, Middle East, and Africa (EMEA) business segment comprises offices in financial centers from Amsterdam to Cape Town.
Changing consumer behavior and a dynamic insurance landscape in the EMEA region continue to demonstrate the need for innovative solutions. RGA EMEA's product portfolio extends beyond traditional individual and group life reinsurance to include critical illness coverage, longevity reinsurance, capital management and capital-motivated reinsurance.
RGA EMEA spans 10 countries, including France, Germany, Ireland, Italy, the Netherlands, Poland, South Africa, Spain, the United Arab Emirates, and the United Kingdom.
Simon Wainwright
Executive Vice President, EMEA

Read bio >

EMEA Regional Headquarters
45th Floor
22 Bishopsgate
London, EC2N 4BQ
United Kingdom
T 44.20.7710.6700
#1 IN ALL RESPONDENT BCI
NMG Consulting Studies

RGA was ranked highest on NMG Consulting's 2021 All Respondent Business Capability Index for EMEA in aggregate for the ninth consecutive year. EMEA is defined as the U.K. and Ireland, Continental Europe, South Africa, and the countries of the GCC (Gulf Cooperation Council).
Backed by extensive mortality experience and informed by years of underwriting innovation, RGA EMEA underwriters, actuaries, data scientists, and technology experts are responding to changing client needs. We offer:
Turnkey solutions, partnering cost-effectively with new distribution parties and models, including direct insurers, retailers, aggregators, and social media vendors.

Innovation expertise in advanced analytics, predictive modeling, mobile technology, microinsurance, and wellness programs.

Access to one of the most experienced global underwriting teams of any reinsurer, multiple value-added services, and AURA NEXT, a decision-management platform powered by RGA's underwriting and analytics expertise.
Solvency II and related de-risking of pension funds continue to fundamentally reshape the European financial landscape; RGA offers clients intrinsic advantages over European reinsurers under Solvency II rules, as well as unsurpassed experience in the use of reinsurance as a financial management tool.

Insurers are seeking capital efficiency to meet regulatory requirements in the short term, and pursuing strategic realignment for financial stability in the long term. RGA pioneered the use of capital-motivated transactions. We partner with clients to structure innovative capital solutions, including longevity and asset intensive transactions, as well as portfolio run-off acquisitions.

EMEA
Jun 2, 2016, 11:07 AM