Adjudicating a claim when claim proofs are procured overseas can be challenging when the assessor is not familiar with the validity of the claim proofs and documentation.
This is especially true when the claim's circumstances are suspicious and the claim amount is exceptionally high. A fraudster sees this situation as an opportunity to receive a claim payout. In order to safeguard against fraudulent claims being paid, validation of claims proofs should be incorporated as an integral part of the claims adjudication process. Depending on the nature of the claims, varying degrees of validation can be applied.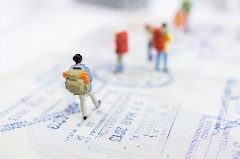 ---
Official certification of claims proofs
One cost-efficient way to authenticate original claims proofs is to require the documents be certified by a notary public. This is an official with statutory powers to witness documents, administer oaths, and perform other wide-ranging administrative functions both nationally and internationally. Part of the services include, but are not limited to, certification of copies of documents1. In most countries, it is a criminal offense to provide false or forged documents for certification.
For participating countries in the XII Hague Convention 5 October 1961 (Hague Apostille Convention) using the apostille process offers a better alternative because it involves an annotation that certifies the authenticity of a document issued in a signatory country of the Hague Apostille Convention. These documents will be accepted in all other signatory countries, currently 80 in total2. An apostille can only be issued by a competent authority in the country where the apostille is being sought3.
For claims occurring overseas, the requirement for certified claims proofs through use of notary publics or the apostille system should be incorporated as part of the standard claims process.
---
Local or foreign investigations
For claims of a suspicious nature, it may be necessary to have a loss adjustor or investigator to validate the claims proofs on site. While the primary consideration in hiring an investigator is driven by the sum insured, there are other factors to consider when deciding if a local or a foreign investigator should be hired.
An investigator based in the country where the insured event occurred is likely to better understand local regulations and requirements that facilitate document validation, to notice any irregularities, and to raise relevant questions. However, it is important to note that the insurance policy is governed by the law in the country where it is issued. The claims assessor should ensure that the hired investigator is familiar with legal requirements related to the authenticity of the documents if the claim is subsequently denied and litigated.
While familiarity with local regulations is important, different data privacy and handling laws and restrictions can still present challenges, especially when personal information cannot be sent offshore. Cultural and language differences, and country-specific authoritative processes can also play an important role in these investigations.
The best approach is to conduct a joint investigation by both local and foreign investigators. An investigator with a network of locations and offices in the relevant jurisdictions is another alternative. It is important to seek legal counsel and / or reinsurer advice before beginning this process.

---
Country-specific expert guidance
When looking for steps to follow in particular countries, RGA's Global Claims Manual provides guidance on relevant publications, training materials, and best-in-class claims practices, including insights into processes such as overseas death claims adjudication.
RGA's Overseas Death Risk Calculator (available to clients in the manual) allows the claims assessor to quantify the likelihood of fraud in the overseas location where the death has occurred. Depending on the circumstances of the claim, the calculator offers an assessment and advice on whether further investigation is required and appropriate. The claims assessor can also refer to a comprehensive list of red flags and a Death Abroad Questionnaire template, which can be used to request information to assess an overseas death claim.
In addition, the user guide provides information, that is specific to the country where the death has occurred. This includes a listing of standard practices for registering and investigating a death and examples of certificates and other documentation. This information can be used to verify the claims proofs against standard certificates and can help the claims assessor detect irregularities.
---

Summary
Adjudication of overseas claims may be challenging, but being aware of red flags and having an effective claims strategy and processing framework will help ensure the validity of claims and avoid fraudulent activity.
For more information about RGA's Global Claims Manual, contact RGA.
---
https://www.notarylocator.com.au/notaries-explained.php
https://schmidt-export.com/legalization-of-foreign-documents-and-apostille/apostille-asia
https://www.apostille.org/