Motor Vehicle Fatalities
Since the enactment of the National Traffic and Motor Vehicle Safety Act in 1966, the fatality rate per vehicle miles traveled (VMT) has steadily declined.3 During the period of 1967-2011, there were only 5 years where the fatality rate increased. However, from 2012 to 2016, the fatality rate increased in 3 out of 5 years – 2 of which were 2015 and 20164 (Figure 1).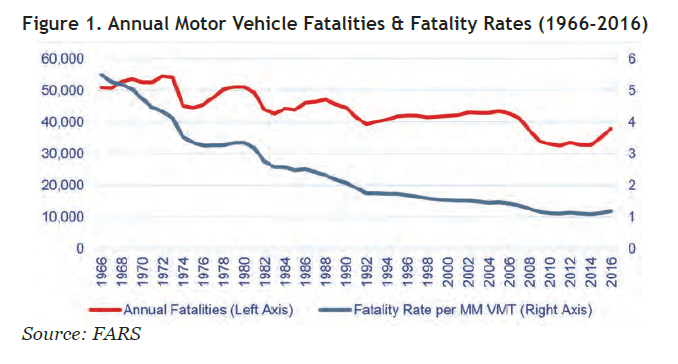 The likely culprit for this disturbing increase in fatalities is an action that 70% of drivers admit to doing behind the wheel: checking their smartphones.5 However, it is very difficult to prove this definitively based solely on information from the Fatality Analysis Reporting System (FARS), a database that tracks every fatal automotive accident in the United States. The FARS database relies on information collected by authorities at the scenes of accidents, but there are numerous issues at play, which result in the true rate of cell phone-related distractions being severely under-reported.
The dangers of distracted driving have been known for years. Research from the University of Utah in 2006 indicated that talking on a cell phone increases the risk of an accident to a level similar to that of driving while intoxicated.6 While different studies may show varying degrees of risk, the consistent conclusion is that distracted driving significantly increases the risk of being involved in an accident.
FARS Database Analysis
The FARS database, which is maintained by the National Highway Traffic Safety Administration (NHTSA), contains detailed information on fatal automotive accidents. With this information we can look at some major factors that influence fatalities.
The following charts show the probability of survival (survival rate) from fatal car crashes, i.e., car crashes involving at least two motor vehicle occupants and resulting in at least one motor vehicle occupant fatality. The data for these charts includes fatal crashes from 2010-2015.


Vehicle Safety Improvements
This first graph (Figure 2) shows how much safer vehicles have become over the past 3+ decades. It's no surprise that large trucks have always had high crash survival rates purely due to their massive size. However, a look at what constitutes most personal vehicles on the road shows that the probability of survival goes up dramatically with newer vehicles regardless of type. Technological improvements in automobile design such as airbags, anti-lock brakes, crumple zones, stability control and more have all played huge roles in making modern cars safer than ever.
Seatbelt Effectiveness
The next graph (Figure 3) looks at how the survival rate changes by model year and restraint use. One somewhat surprising result is how effective child safety restraints are at preventing fatalities regardless of the age of the vehicle, given the disparity in occupant survival rates overall by model year. The key point of this graph, however, is the disparity between the survival rates of occupants who use seat belts vs. those who do not. Seat belts have always been effective, but as can be seen with each new model year, the effectiveness of seat belt use has increased while the survival rate is fairly level across all model years for unrestrained passengers. Not only has the effectiveness of seat belts increased, the actual seat belt use rate has risen from 70% in 2000 to 90% in 20161 (Figure 4).

Drunk Driving
Drunk driving fatalities have dropped substantially over the past 30 years, both in raw numbers and as a percent of all fatalities. The statistics for the following graph (Figure 5) were taken from the Mothers Against Drunk Driving (MADD) website, which shows the decrease in the number of drunk driver-involved fatalities since 1982. Rates have remained relatively flat since 2011.2

One possible reason for the relatively stagnant rates of drunk driving fatalities could be related to the increase in cell phone distractions. Clearly, a drunk driver who is also distracted by a cell phone is going to be that much more dangerous on the road. However, once alcohol involvement is identified in an accident, police are unlikely to conduct any further investigation to determine if distracted driving was also a cause.


Driver Distraction
Given the information above, it is clear that increases in vehicle safety, increased seat-belt use and reduced drunk driving rates have all put downward pressure on the automotive fatality rate per VMT. However, if the overall fatality rate is going up despite these major factors pushing it down, what factors are causing it to increase?
A look at the distracted driving statistics from FARS tells only a part of the story. In what is a very surprising statistic, the level of distracted driving-related fatalities remained relatively flat from 2010 to 2015. Within the distracted category, only 442 accidents were identified as involving a cell phone-related distraction in 2015, up from 366 in 2010. However, the number of fatal accidents where distraction involvement was reported as unknown more than doubled from 2010 to 2015 (Figure 6, next page).

A few disturbing trends in traffic fatalities from 2010 to 2015 can be seen in the following bar chart (Figure 7), which shows the percentage increases in fatalities over that period.


Why is it that since 2010 the number of unknown distraction cases has gone up more than 100%, the number of cyclist fatalities has gone up more than 30%, and pedestrian fatalities have gone up by 25%? Even more telling, why has the number of pedestrians killed in a single vehicle incident with a sober driver increased 32%, and all of this while the overall increase in fatalities was only 14.8%? Clearly, the data isn't telling the whole truth when it comes to distractions.
Underreporting of Cell Phone Use
A paper by the NSC published in 2013 investigated the underreporting of cell phone use in national crash data, in which 180 fatal crashes were reviewed where evidence indicated a driver was using a cell phone. In 2011, only 52% of the cases reviewed were coded by FARS as having involved a cell phone-related distraction.7
Some of the issues addressed by the NSC when it comes to the issue of underreporting:
Police often rely on drivers admitting to cell phone use, which is not something many willingly do or is not possible if they have died.
Police may not fully investigate cell phone use if a more obvious violation such as speeding or lane departure is identified, or if a more serious violation such as driving under the influence is involved.
If cell phone use is identified during post-crash investigations or civil court cases, crash reports may not be updated.
Cell phone records are difficult to obtain. If they are obtained, the data must align with the precise moment of the crash, which is often impossible to pinpoint.
Additionally, in 2014 the NSC estimated that a minimum of 26% of all crashes involved some form of cell phone use.8 Considering how cell phones (especially smartphones) have become even more ubiquitous since then, it is possible that estimate would be even higher for 2017.
Read More +