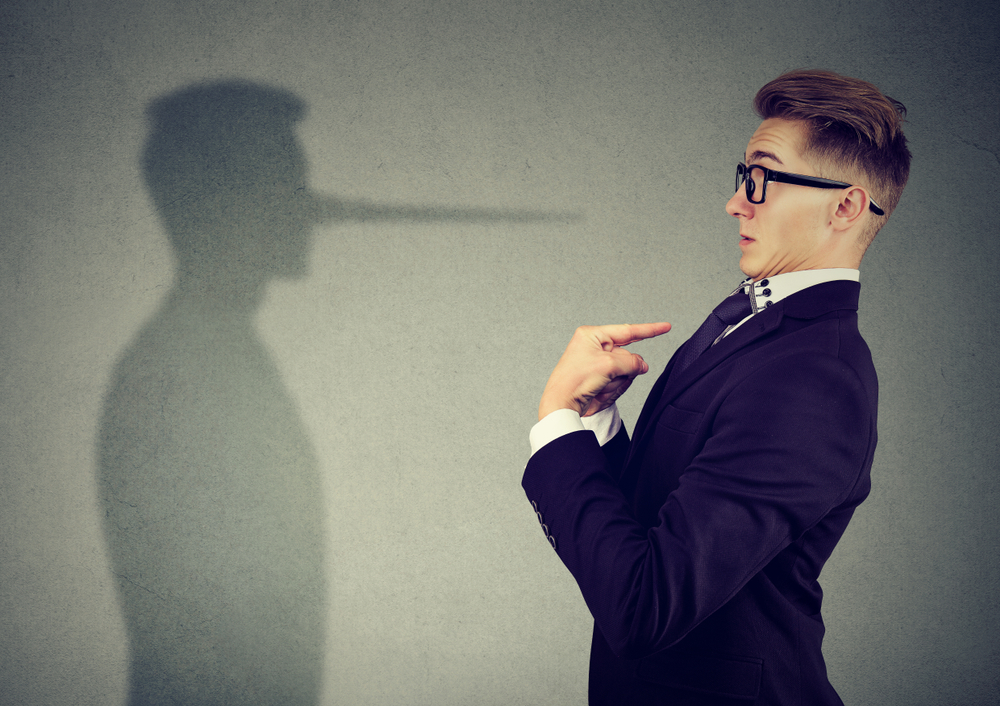 When people hear "fraud," they tend to think of bad actors with harmful intent operating sophisticated schemes to acquire large sums of money.
However, fraudulent behavior is not limited to criminal cheaters. In fact, under the right circumstances – clear incentive, an opportunity with reduced risk of being caught, and seemingly "victimless" consequences – most of us are capable of misrepresenting the truth.
In a famous series of studies called The Matrix Experiments, people were presented with 20 simple math problems to solve, but not enough time to complete them. At the end of the test, they were asked to write down on another piece of paper how many problems they solved correctly and then shred the original test paper, so no one would know the true number of correct answers. Subjects received $1 for each problem they claimed to have solved.
The subjects didn't know that the shredder didn't fully shred the original test, so their true results were clearly detectable. Over 40,000 people participated in The Matrix Experiments. Some key findings:
On average, people solved four problems but reported solving six.
Almost 70% cheated.
Only 20 "big cheaters" claimed to have solved all 20 problems, costing the experiment $400.
More than 28,000 "little cheaters" cost the experiment $50,000.
The COVID-19 pandemic has created an environment in which people filling out insurance applications face "little cheating" opportunities that can eventually lead to a large economic impact for insurers.
A Breeding Ground for Fraud
Incentive drives behavior. Widespread unemployment, economic uncertainty, and increased mortality concerns brought on by the coronavirus outbreak have made the need for life insurance more tangible for millions of people. While malicious fraudsters will seek to take advantage of the current distraction and disarray to advance their schemes, many – normally honest – people facing financial pain will be more susceptible to seemingly mild deception. It is much easier to hold back the truth when doing so could help loved ones facing an uncertain future.
Then there is opportunity. As with so many aspects of business and everyday life, social distancing and stay-at-home measures have disrupted the life insurance application process. Life insurers, who have long depended on in-person interactions and verifiable evidence to ensure the accuracy of applications – advisor meetings, paramedical exams, blood tests – now need to evaluate other methods and data sources, ones that can be completed remotely without the need for personal contact. Unfortunately, the opportunity for applicants to withhold important information on applications completed in this manner – even unintentionally – is significantly increased, as is their willingness to do so. Who is more likely to leave out something important: the applicant filling out a form in front of an insurance professional at an office during business hours, or the applicant completing an online form at home in the middle of the night?
Underlying all of this is a fundamental challenge for the industry: Insurers make an attractive target for fraud. The death benefit, the potential financial benefit, in comparison to the annual premium paid is huge. The insured and the carrier enter into this arrangement based on a high degree of trust, offering opportunities for deception starting at the time of application. In addition, the frequent perception of insurers as impersonal corporate entities makes them unsympathetic victims, especially for smaller, seemingly harmless transgressions. So, with increased incentive, greater opportunity, and relatively guilt-free execution, what's to stop consumers from withholding information on insurance applications?
Plan for Prevention
The challenge for preventing fraud during the COVID-19 crisis is clear, but insurers can reduce the risk by taking proactive steps during the application process:
Stay calm. Early in the crisis, some rushed to consider waiving underwriting requirements for life insurance applicants. Agents and insurers alike feared that stay-at-home orders would result in a precipitous decline in applications. This initial panic has subsided as reports from MIB and LIMRA indicate that life insurance application and sales activity has remained relatively strong. The key for the industry is to not simply abandon best practices as a reflexive response to the crisis.


Innovate. In a crisis, companies and industries must adapt to survive, and we are seeing such adaptation across the life insurance sector. Agents are conducting virtual appointments or making special arrangements to meet with applicants while following social distancing guidelines. Insurers are making more applications available electronically and generating a greater percentage of business through digital channels. To help facilitate and encourage truthful disclosures, they are increasingly employing call centers to assist consumers in filling out applications. The use of new digital technologies to perform important tasks such as identity verification and risk assessment is also growing. The evolution toward e-applications had begun before COVID-19, but the pandemic has resulted in agents overcoming their trepidation and embracing digital initiatives.
Remain vigilant. As new ways of doing business emerge, insurers must work even harder to maintain standards and apply best practices whenever possible. Good risk assessment is still core to ensure financial soundness for carriers. If you have a question about an application, ask it; if you need validation, pursue it; and trust your instincts. The need to bring in new business must not lead to an abandonment of sound business practices. If the volume or distribution of applications from various sales outlets changes significantly, monitor the changes and determine if such channels are doing a good job selling or if holes in the application process are being exploited.
Work together. As insurers continue to react to the crisis and adapt processes accordingly, new opportunities for fraud will emerge. No single company can stand alone in the fight to prevent fraud. At RGA, we are working with clients, partners, and organizations to facilitate an industry-wide sharing of ideas and information as we face this pandemic together. Millions of families worldwide depend on the financial protection life and health insurers provide in uncertain times, and the current global health crisis is no exception. Our responsibility and purpose are clear – and include providing a bulwark against fraud that diverts dollars away from providing benefits for our policyholders.
This article is Part I in a series that addresses fraud prevention during the coronavirus pandemic by following the life cycle of an insurance policy – from application through claims.

To learn more about this year's RGA Fraud Conference and to register, visit the conference webpage, and contact us with your fraud and data privacy questions.
---
References
https://www.elsevier.com/editors-update/story/publishing-ethics/a-fascinating-experiment-into-measuring-dishonesty
https://www.thecut.com/2015/05/8-true-things-about-the-ways-people-lie.html
https://www.limra.com/en/research/research-abstracts-public/2020/the-impact-of-covid-19-on-individual-life-insurance-sales-and-applications-in-the-u.s/
https://www.mibgroup.com/riskanalytics/life_index_pr.html