Critical Illness, as a product, is currently more than 30 years old and has proven vitally important to many markets around the world. Given the speed at which medical science is evolving, can the product continue to retain its fundamental spirit and still remain sustainable? Over the past decade, it has experienced extensive evolution: new standalone and rider structures as well as new product features have emerged, and the number of covered conditions has grown considerably. The impairment definitions themselves have also undergone substantial refinement, enabling them to provide far greater precision while keeping current with medical advances. All of these changes are driving increasing complexity in CI, emphasizing the pivotal role insurance medical directors must play in CI product design and pricing in order to ensure the product's profitability and marketability. This article reviews the important considerations and challenges of which insurance company medical departments must be aware to ensure this product continues to be successful.

Critical Illness insurance is, in its essence, a simple product: it provides a
lump sum payment to an insured upon diagnosis of a covered impairment as
defined within the contract. The product, however, is not simple at all, and
its complexities are growing fast. Currently, CI is available in several design
configurations: policies specifically for juveniles and females; policies featuring
scaling and partial payments; and multi-pay policies, with buckets enabling full
payouts should the policyholder need to claim more than once. Policy options
such as buy-back and recurrence benefits can also be purchased.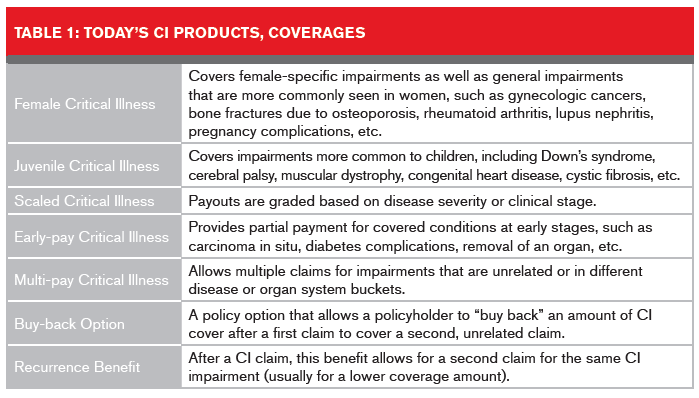 Impairments to Cover

In CI's early days, only the so-called Big Four illnesses – heart attack, cancer, stroke, and coronary artery bypass surgery – were covered. Since then, the product and its features have evolved substantially. As Table 1 shows, CI products today come in a range of structures that can cover single and multiple impairment incidences.
The roster of impairments a CI product can cover has grown as well. Insurance companies today compete to provide the widest selection of illnesses, with some products now covering more than 175 diseases and conditions. Several products also incorporate "catchall" impairments, such as total and permanent disability (TPD), terminal illness, and loss of independent existence, which is adding further complexity.
When developing CI products, insurers need to determine which impairments are the most appropriate to cover, depending on the market to be served and its financial needs. The optimal number of covered impairments varies by market, but usually ranges from 13 to 23 conditions. Insurers also need to be able to underwrite the selected impairments effectively. It is best not to cover impairments that are difficult to clearly define with objective criteria or diseases open to potential negative impacts of medical advances.
The spirit of the product also needs to be maintained. CI definitions need exclusions and severity clauses in order not to cover non-critical conditions where financial loss to the insured upon diagnosis is minimal. For example, policies should not cover every type of burn, otherwise a sunburn would qualify. Also, not every abnormality incidentally found on a cranial CT scan should be covered, and CI carriers should not have to pay out for easily treatable minor cancers such as non-melanoma skin cancers that have good prognoses and do not generally result in significant financial loss to the insured.
As a general rule, for large-payout CI impairments, it is best to cover only serious, life-changing impairments that will shorten life expectancy, are expensive to treat, and commonly leave the insured with significant sequelae.
Read More +