Past success doesn't guarantee ongoing success, particularly when it comes to insurance product portfolios. Today's evolving insurance landscape has made new product development vital to insurers' financial strength and business growth. At a time of changing customer demand, regulatory standards, and market pressures, how do insurers bring successful new products to market?
After two years in the making and over 3,000 data points analyzed, a far-reaching product development survey conducted by RGA and LIMRA on behalf of the Society of Actuaries (SOA) sheds new light on how individual life and annuity insurers are evaluating this question. RGA and LIMRA collaborated on this study to explore product development practices in North America, adding some global markets perspectives, for the SOA. The survey findings provide an effective tool for insurers to benchmark performance, identify common challenges, and seek areas for improvement, growth, and/or investment.
Below are just a handful of insights from the
more than 200-page analysis
on the SOA website. Note: Page and section references in parentheses below refer to the full report.
1. Fast followers outnumber first-to-market innovators.

"We're probably a fast follower like a lot of companies. But on the other hand, we do have some innovative things that we have done… It just takes more money and more time to do things in today's market environment than it took us 10 years ago."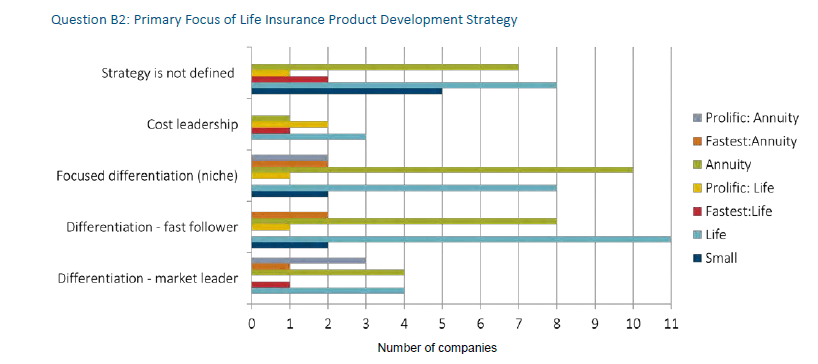 Many insurers acknowledge they do not have a clearly defined strategy for product development, but this does not necessarily hinder the product development process: The undefined-strategy companies do not report launching fewer products. Those companies with a defined strategy most frequently embraced fast-follower or niche approaches. Fast followers avoid the investment and risk of first-to-market innovation, but must work quickly to react to changes in the market and seek to improve on the design being followed. Fast-follower companies may not consider themselves highly innovative, nor do they make disruptive innovation a measure for success.
2. Greatest need for improvement: Administration.

"We always complain about the IT capacity. I think our company really made a great stride in recent years."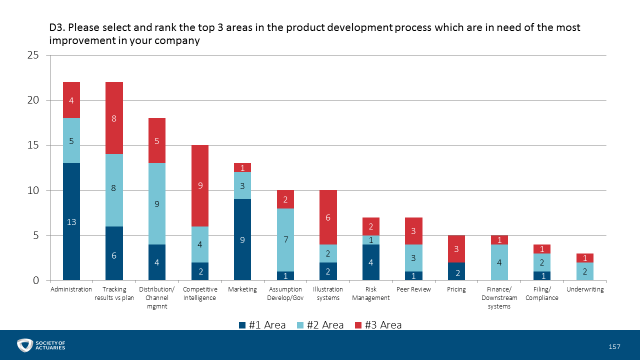 The top area identified as needing improvement was administration; however, most insurers have taken little action in the last two years to improve this significant bottleneck (page 74). Respondents stated that, budgets permitting, hiring staff and upgrading technology would be ideal capacity improvements (B16), but many companies struggle to achieve these goals. Some have realized efficiencies in their process by outsourcing (D1a & D2a).


---

Posted with permission of the ©Society of Actuaries, Schaumburg, Illinois.
Read More +