Japan
RGA Reinsurance Company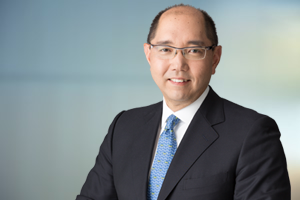 Arthur Ozeki
Chief Executive Officer
RGA Japan

Arthur Ozeki, Chief Executive Officer of RGA Reinsurance Company Japan Branch, has nearly 30 years' of experience in international financial services, and for over 20 years he has led mergers and acquisitions (M&A) and banking teams for global investment banks in Japan. He has advised many leading Japanese and multinational institutions on highly strategic and transformational transactions, particularly in the automotive, industrial, healthcare and financial services sectors. He joined RGA in 2016.
Prior to joining RGA, Arthur was with the Macquarie Group for 8 years, initially as Head of Macquarie Capital, and subsequently served in several roles including Country Head, Branch Manager, and Chairman. During this period, he oversaw the development of Macquarie's business in Japan across multiple areas, including investment banking, capital-raising and principal investments while also serving on several boards of Macquarie-led investments in Japan.
In addition, Arthur has held senior positions at UBS Securities Japan, including Managing Director and Co-Head of the Japan M&A/Advisory Group. From 2001 to 2004 he was Managing Director and Representative Director/CEO of Lazard Freres' Japanese operations. Arthur began his career in Japan when he transferred from New York with J.P. Morgan and founded its M&A practice in Tokyo in 1994, leading the group until his departure in 2001 at which time he was Managing Director, Head of M&A/Advisory, and Chief Operating Officer of Investment Banking.
Arthur received a Bachelor of Science degree in computer science and engineering from the Massachusetts Institute of Technology, and an M.B.A. from the University of Chicago's Graduate School of Business.
Simon Armand-Smith
Executive Director,
Business Development
Global Financial Solutions


Akira Sakamoto
Vice President and
Chief Underwriter
Jeffrey Chen
Chief Pricing Actuary
Kazunori Hashida
Executive Director,
Head of Product Development

Shin Yagisawa
Executive Director,
Head of Business Development
Yasuhisa Watanabe
Vice President and
Chief Financial Officer