The past few years have been, at best, challenging for Australia's life insurers and reinsurers. Claims experience for group disability providers had never before experienced a slump of the magnitude seen between 2012 and 2014, while individual disability providers have seen their experience yo-yo since 2011.
The unusually high and unexpected losses experienced by individual income protection (disability) insurers in Australia stemmed from several causes, from underestimating the length of time disability claimants would stay on claim (due to poor product design) to ineffective claims management practices.
By the end of 2013, overall Australian claims experience had deteriorated even more, with significant group lump-sum disability (total and permanent disability, or TPD) losses dominating. The worst, however, was still to come: 2014's large losses in individual income protection and group lump-sum disability combined to result in a record year for disability losses.
Losses attributable to individual policyholder lapsation worsened as well. According to fourth-quarter 2014 statistics from the Australian Prudential Regulation Authority (APRA), the country's financial services industry regulator, life industry profitability is well below expectations, with individual lump sum's improving results the only bright light (see Figure 1 below).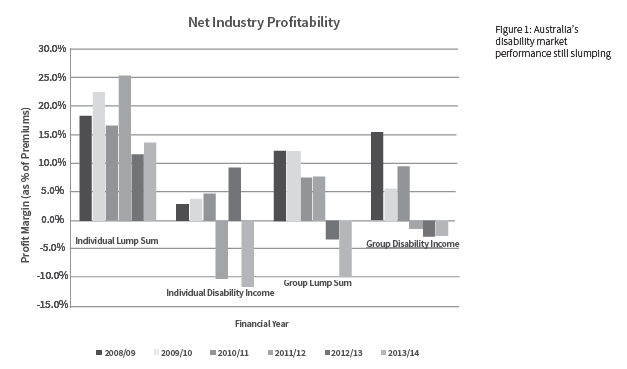 Reinsurers Increase Claims Reserves by More Than US$1 Billion in 2013

The most common explanation offered for the Australian market's group disability losses is that the environment had changed so rapidly over the prior decade that using past claims experience to credibly price large group policies had become an unreliable predictor of future claims experience.
However, no one could have anticipated that claims experience would deteriorate as rapidly as it did from 2011 to 2013. Losses in 2013 were quite extreme, contributing to the country's four largest reinsurers collectively increasing reserves by more than US$1 billion.
These losses sparked a genuine push for structural change in Australia's group disability market. Price increases alone are not likely to return group disability to sustained profitability. Changes to product design, conditions around eligibility for group cover and a paradigm shift in how claims are managed are essential.
Fortunately, by the end of 2014, many Australian life insurance companies had either completed or were planning to revise their claims practices. Some
were even revisiting their entire approach to claims management.
Two approaches to tackle the challenges faced by Australian insurers' claims departments appear to dominate. One consists of improving current practices and optimizing the existing claims payment model. The second, bolder approach is to innovate.
Read More +