According to recent data from the Australian Institute of Health and Welfare,
around 50% of Australian males will be diagnosed with cancer before their 85th
birthday. The number is 30% for females. In 2014, cancer accounted for 30% of
deaths in Australia.
1
In Australia and across most of the world, cancer and/or the related care is usually
insured as part of critical illness products, one of several conditions covered under
these offerings. However, in a few Northeast Asian markets (such as South Korea,
Japan and Taiwan), cancer is insured in stand-alone products.
Coming to Australia after having worked in health product pricing and research and
development in the Japanese market, I was surprised to see that cancer products
had not made their way "down under."
In Northeast Asia, cancer insurance usually covers treatment for cancer and
occasionally carcinoma-in-situ (CIS). Benefits can be paid out upon diagnosis,
death caused by cancer, and cancer-related surgeries. Some products also
feature additional coverage such as cancer hospitalisation (nursing care), radiation/
chemotherapy, rehabilitation and other minor ancillary benefits.
Cancer products are popular and important segments of the market in Northeast
Asia. The annualised new business premium of cancer products in the Japanese
market in fiscal year 2014 was almost ~AUD1.5 billion, with 1.8 million new
policies accounting for 12% of all new retail policies.
In recent years some companies in other Asian markets have begun offering
cancer-only products to differentiate their offering from conventional critical illness
products. These markets have seen growing interest in cancer insurance, possibly
because of insufficient coverage from existing critical illness insurance and a
consumer perception that cancer-only products are better aligned to their needs.
In these markets, cancer accounts for the majority of critical illness events and
diagnoses, 60-70% for males and more than 80% for females.
Cancer incidence factsheet
The level of cancer incidence by site varies by country/region depending on
demographic, geographic, diet, lifestyle and other factors.
The tables below show the top three common cancer sites by gender for select countries:
2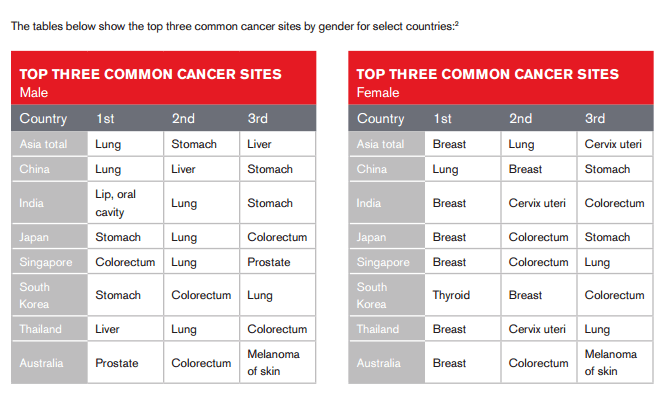 Read More +