Full Speed Ahead
Google futurist Ray Kurzweil's Law of Accelerating Returns poses that information technology follows an exponential growth trajectory – multiplying in speed and sophistication at ever increasing rates. While we can debate the specifics of Kurzweil's predictions, it is hard to argue against the basic principles of his thesis. For example in the ten years since Apple launched the first iPhone, mobile technology has multiplied many times over in capacity, connectivity, and ubiquity (just look in your pocket).
The practice of underwriting – now inextricably tied to technology through e-underwriting solutions – is also evolving faster than ever. With the dawn of big data, the amount of information available continues to expand and the need for technology automation expands along with it. Life insurers are gaining access to a growing wealth of applicant data – medical information, credit scores, driving records, prescription histories – to better determine an individual's long-term mortality risk. Technology speeds the collection and analysis of this growing mountain of evidence.
The Future of Underwriting Automation

So where are we headed? As the amount of data increases along with technology's ability to process it – not to mention advances in medicine, product innovation, and distribution – the insurance industry's relationship with data is fundamentally changing. Already predictive models are spawning development of accelerated solutions providing blood test-free (fluid-less) underwriting solutions.
To enable these changes, we will place new demands on the existing technology systems that automate and accelerate the underwriting process. Tomorrow's leading underwriting automation systems will shift from pure rule-based platforms to more comprehensive decision management platforms allowing the integration of rules with predictive models. Future solutions will include closed-loop analytics and machine learning to drive decision-logic improvements – and even artificial intelligence and cognitive computing techniques to increase power and flexibility.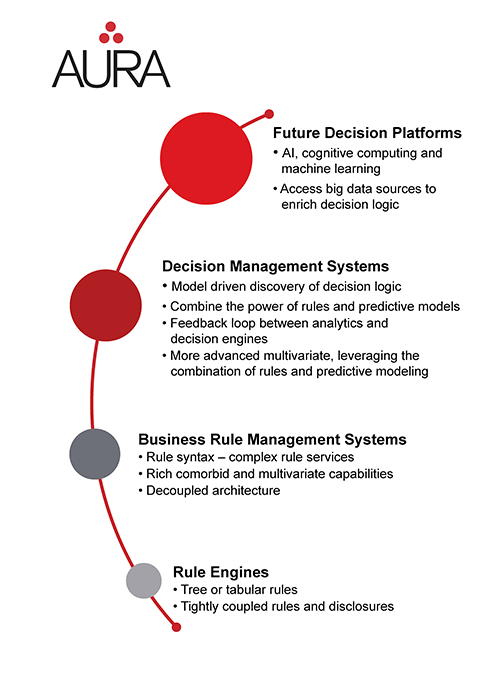 The evolution of underwriting will reward those who can readily adapt to change and are equipped with the tools to facilitate progress. From a technological perspective, this starts with an e-underwriting platform positioned to evolve along with the industry – one that delivers a robust rules engine, predictive elements to provide additional insights, and the ability to systematically update itself via cloud-based hosting.
Built for Tomorrow

At RGA, we recently completed a multi-year initiative to create such a platform. The new AURA® combines RGA's underwriting expertise with leading technology – all built around a framework designed with the future in mind. AURA's updated features include:
Shift to software as a service (SaaS) to reduce cost, simplify the technology stack, and speed time to market
Powered by FICO Blaze, an industry-leading rules engine with much more complex rule capabilities and best-in-class transactional performance
Responsive user interface to allow easy use of mobile devices
Amazon Web Services (AWS) cloud-based service to allow data isolation and auto-scaling to handle variable demand
Separation of disclosures and rules to speed adoption and ingestion of future data sources
Service orientated architecture (SOA) to allow for easier future inclusion of new decision tools like predictive models, advanced analytics, machine learning, and cognitive computing
For too long, e-underwriting technology has not advanced nearly as fast as the rate of new data made available. As we look ahead to the era of artificial intelligence, cognitive computing, and machine learning, an e-underwriting platform designed to readily integrate new data and new tech advances will be vital to remain competitive. In other words, the right technology investment today can reap the rewards of the law of accelerating returns tomorrow.