What is the key to the success of a digital solution? What does it take for any new solution to establish itself firmly and sustainably?

These questions lie at the center of today's ever-expanding landscape of digital processes and user experience (UX) design. The human bias for the shiny and new, especially when it comes to technology, coupled with the equally human tendency to become disillusioned with new tech quickly, are challenges that any new digital solution must overcome to be successful.
Creating and promoting a digital ecosystem model, with its interconnected and wide range of digital services, is one key way for organizations to deliver successful and sustainable investment in digital solutions. For health insurers seeking to respond to consumer expectations in an ever-increasing digital world and improve both engagement and the health of their customers, the ecosystem model offers a path forward.
Comprehensive, consumer-focused health insurance
What exactly is a health insurance ecosystem? Perhaps the simplest way to describe it is as a substantial improvement on the aggregation concept. The health insurance ecosystem business model aggregates, but critically also integrates and coordinates customer and insurer access to multiple service platforms. Ecosystem platforms provide a full spectrum of digital services, from more traditional underwriting and claims management to focused care needs for seniors and people with chronic diseases, which are increasingly becoming must-haves.
Advances in digital technologies, including application program interfaces (APIs) that enable interoperability and cloud storage capabilities that provide unprecedented access to large volumes of data, are making such platforms possible. In addition, the myriad of wellness apps, as well as tech-driven clinical medicine developments such as wearable devices, are facilitating far wider customer interest and access to increasingly sophisticated health tools and information. This is enhancing the development of products, pricing frameworks, and underwriting standards much more tailored to current and emerging cover needs.
A recent Accenture Strategy report describes the shift from the traditional business model to the ecosystem as a shift toward a more collaborative framework, where a sophisticated digital platform enables cooperation among a company's core products and services and innovative services provided by third parties. All the components function as a unified framework, or ecosystem.1
The best of these models include features and functionalities that benefit insurers and insureds alike, such as cutting-edge data collection and analytic capabilities as well as the ability to assess the ecosystem's utility and viability for the customer base. The services and systems can be proprietary and third-party, but the key to a successful ecosystem is operating in an integrated and seamless manner with UX. Furthermore, a sustainable ecosystem must be futureproof. This requires the ability to incorporate new technologies and trending services in a simple and timely manner, always staying up to date and relevant to current consumer needs, not just the needs of consumers at the time the ecosystem was developed.
As ecosystems continue to grow, the challenge for health insurers is how to best position themselves within an ecosystem for maximum sustainability. Ensuring customer engagement means more than providing the simplicity of a single sign-on – it also means providing access to a broad range of tools that enable customers to prioritize health goals, analyse challenges to healthy behaviour, and achieve lasting behaviour change. For insurers, a well-structured ecosystem will also incorporate tools that permit powerful and adaptable data collection and analysis as well as scoring capabilities for consumer tools such as digital wellness programs.
The ultimate goal of implementing such a system must be continued delivery of value to policyholders. Choosing and then developing an ecosystem structure can be aided by a knowledgeable and committed partner with deep experience and expertise, not just in the technical aspects but also in the needs of a health insurer and the complex regulatory and service provider environment.
Heidi: A whole-health ecosystem
To help health insurers meet the increased expectations of their customers, RGA and medtech innovator RoadtoHealth (RTHG) have partnered to deliver a fully integrated digital health ecosystem featuring a comprehensive and flexible suite of health services.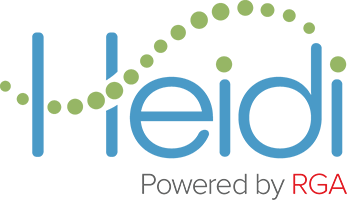 Nicknamed Heidi (for "Health Ecosystem Integrating Digital Innovations"), the new platform is much more than another wellness app, but a whole-health ecosystem. Heidi's broad, flexible, and fully integrated digital healthcare network of providers and technology services allows customers to triage symptoms, locate the most appropriate healthcare services, conduct virtual doctor consultations, arrange in-person doctor visits, order medications where regulation allows, aid and track recovery, and set and track motivating lifestyle and fitness goals – all digitally and without having to switch platforms.
Heidi represents a unique opportunity for both consumers and insurers to leverage technology and experience the benefits of the insurance relationship in a new and meaningful way. For consumers, Heidi offers a convenient, seamless, and single customer journey and the opportunity to engage more fully in their own health management. For insurers, Heidi delivers a range of personalized healthcare and wellbeing services to attract, empower, and retain policyholders. The result: better health and cost outcomes, regular customer engagement, and richer customer data.
Applying expertise and lessons learned through two years of development work by RGA and leveraging the synergies of a true strategic partnership with aligned goals, Heidi puts consumers first and addresses their many needs in one holistic solution. The flexibility to adapt to evolving healthcare landscapes in markets around the world and incorporate new and existing insurer-provider partnerships makes Heidi a practical and sustainable digital healthcare solution.
Heidi provides the platform, RGA delivers the expertise to execute. To learn more about Heidi and other health insurance solutions from RGA, contact us.